18 inch hair extension is one of the most fashionable and well-loved items among customers. If you feel bored with your familiar short hair and want to try changing to a new style with a new long hairstyle, this hair is for you.
The article content includes an introduction, instructions for use, care, and top supplying countries for this hairstyle. In short, they are all you need to know about 18 inch hair extensions.
Overview of 18 inch hair extension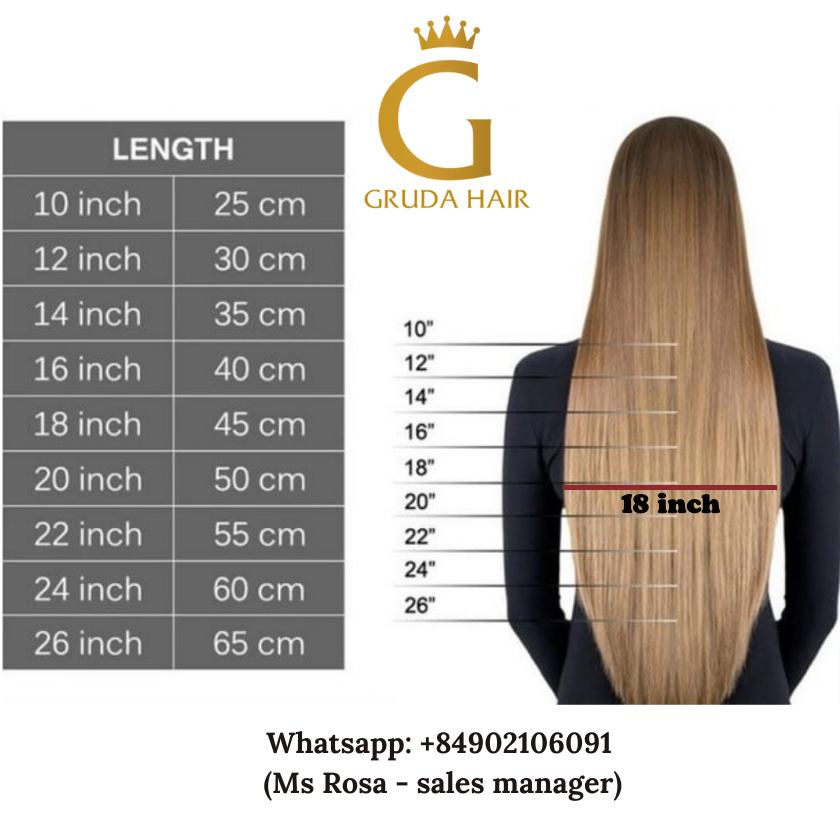 Overview (link)
The 18-inch hair extension is known as the queen of hair types with ideal length. To choose the right hairstyle for you, whether it's this 18-inch hairstyle or whatever, make sure you do your research.
Here, let's follow our introduction, I'm sure you will get the most basic information.
Definition
18 inch hair extensions are designs that add length and bounce to natural hair so that they reach 18 inches in length. Its length is over 45 centimeters. 
Today, this type of hair extension is getting more and more popular and widely used because they include diverse products, reliable origin, good quality, and high durability.
Another reason for its popularity is that it is neither long nor short, so it is an ideal selection for those wanting the medium-length hairstyle.
Features
When it comes to the characteristics of an 18-inch hair extension, there are several factors to consider such as length, weight, and price. Next, let's take a closer look at these factors.
Length
18 Inch Hair Extensions, as the name suggests, are definitely 18 inches in length.
In order for you or any customer who is following this article to better understand the number 18 inches, we convert it to other length units such as centimeters, feet, and hands as follows.
18 inches = 45.72 cm = 1.5 feet = 4.5 hands
Of course, length is only for straight hair. If you want to measure for curly or wavy hair, you will have to straighten your hair first.
As mentioned, an 18 inch hair extension has the same length as over 45 cm. At such a length, your hair is expected to reach mid-back.
Another thing to note is that the hair extension can also be shorter or longer than the middle back depending on the height and body structure of the user.
Weight
Surely many consumers will wonder how much the weight of an 18 inch hair extension is.
According to statistics, normally an 18-inch-long weft bundle will weigh about 100g.
However, the design of each type will have a different weight. For example, with hairstyles that use clips or duct tape in the extensions, the hair is not grouped into bundles but instead into separate small sections.
In the end, the total weight is not the same. You can refer to the weight list of many suppliers for details.
However, each supplier will have lists of weights for different hair extensions.
Price
There are 2 main factors that affect the price of an 18-inch hair extension. These include the origin and quality of the product.
Origin of 18-inch hair extensions: When it comes to the origin of 18-inch hair extensions, people often think of hair products from Vietnam, China, India, Brazil, Cambodia, Peru….
And of course, each country have different price according to many internal and external factors such as the availability of hair source, shipment to buyers, the skills of craftsmen, advanced technology adoption, quality of products (Single drawn, Double drawn, Super double drawn)
Thus, the origin of this hairstyle is very diverse, along with that, so is the quality.
It is worth mentioning here that it is undeniable that price always goes hand in hand with quality.
If a product has a clear origin, the hairdressing material undergoes a careful selection process, and the high price is understandable. Take Vietnam as an example, hair sources are from 100% natural hair of Vietnamese women living in the mountainous regions. In these places, they get the tradition to grow hair and then sell to the suppliers in order that they can have additional income. Almost all hair factories in Vietnam mainly provide products with 2 main qualities: Virgin hair and Remy hair.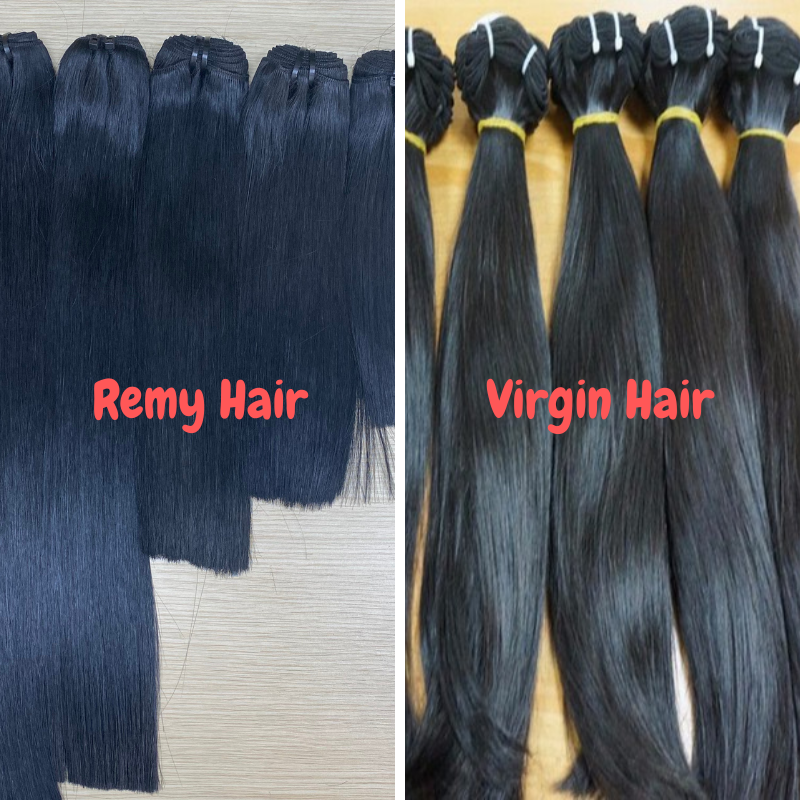 3 grades of hair extensions
Besides, to meet most of the needs of consumers, there are many products that are born at low prices but still ensure good quality.
Product quality: In Vietnam, when it comes to hair quality grade, people use single, double, and super double, while in China, they use 5A, 6A, 7A, etc.
More details a little bit:
Single drawn hair/5A, 6A: 50% hair of the same length, the cheapest price of all types.
Double drawn hair/7A, 8A: 60 to 70% hair of the same length. The quality is good, the price is average.
Super double drawn/9A, 10A: Up to about 80-85% of the hair is the same length. This is the best 18-inch hair extension and requires high standards in the hair selection process.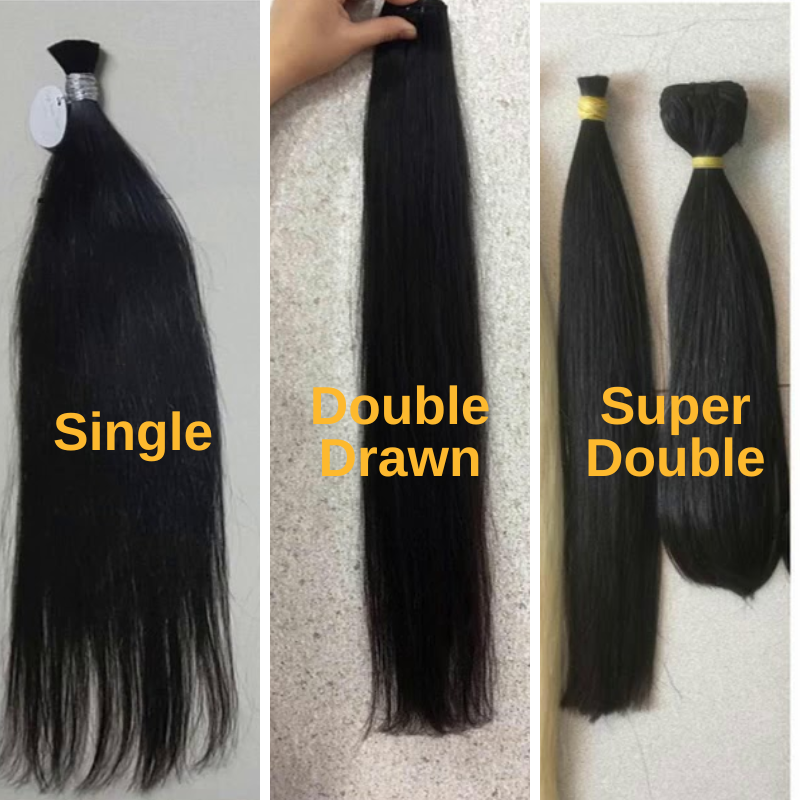 Types of 18-inch hair extension
There is a wide range of options for 18-inch hair extension.
In this section, we will provide you with essential information on some of the top popular and popular 18-inch hair extensions. Hope they help you to find your favorite and most suitable option.
18 Inch Clip-in hair extensions 
An 18 inch hair extension with a clip is a hairstyle that attaches to the top part of a bunch of hair. This is a temporary hair extension because it is easy for all types of consumers to use.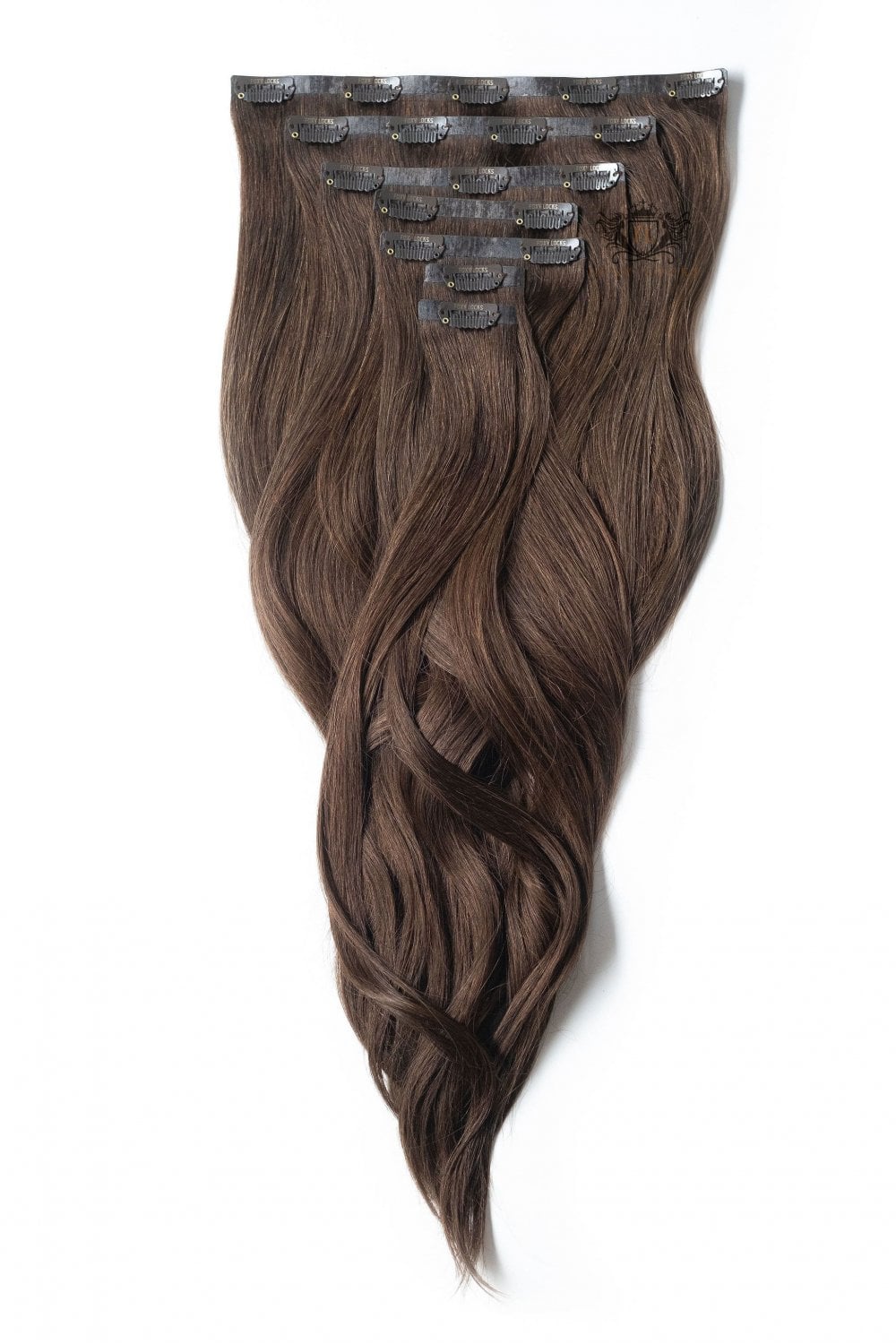 They only need to put clips on their natural hair, the process only takes a few minutes and does not take time or effort. Precisely because of its convenience, this option is a must-have beauty item for modern girls and women.
In addition, these hair clips do not cause any damage to the person using them.
Instead of harmful steps such as straightening, curling, bleaching, or dying natural hair, a simple attachment like this will help you reduce damage to your hair and still have an attractive hairstyle.
18 Inch Tape-in hair extensions 
Hair Extensions Tape 18-inch hair extensions consist of fine hairs attached to small, sticky tabs. 
These extensions don't require special heat-generating equipment or chemicals, so they can be easily done at home or you can have your stylist do them for you.
In addition, this is also one of the great options if you just want to temporarily make your hair longer, thicker, or have some more prominent features.
Many girls and women really love the extension with this option. Simply because it installs quickly, is safe to use with most hair types, and is affordable.
In particular, they are very flat, lightweight, and can easily blend into the texture of the hair, contributing to a natural look and adding comfort to the user.
18 Inch Sewing or Weaving Hair extensions
A sewing (woven) 18-inch hair extension is a collection of hairs sewn into a single strip. They are also known as hair fibers. 
With each style, there will be a different way of sewing hair. Some will sew by machine, while some will be created by sewing by hand.
Compared with other hair extensions, hair extensions by this method have their own unique point.
While using adhesive tape hair extension products, you may have to worry about the effects of hair care products or extreme weather on your hair extensions.
However, with this sewing (woven) style option, the products are usually less affected by external factors.
In addition, many women love and use them because of their durability, reasonable price, and safety for health.
On the downside, the installation process is technically complex, so we recommend enlisting the assistance of a skilled hairstylist, to ensure they are applied properly.
On the other hand, you also need to take care of and maintain your hair regularly and properly so that they are always soft, smooth, shiny, and trouble-free.
18 inch Microbead Hair Extension
The Microbead 18-inch hair extension is one of the most popular extensions.
Extension strands are fixed to the natural hair using microbeads or metal cylinders for smoothing.
It takes about 1-2 hours for the user to complete the application of the 18-inch hair extension and does not require the use of special chemical methods.
Therefore, choosing this option saves you time and causes less damage to the natural hairs.
However, the application process needs to be careful, otherwise, your natural hair may have bad effects.
The outstanding advantage of this hairstyle is that the hair extension can allow for more flexible styling. It can be adjusted to the length you want, or treated the way you do with your own hair such as washing, drying, straightening, curling, …
As you take care and maintain your hair extensions properly, 18 inches hair extension has the durability to last up to 6-8 months and reuse for the next installation.
18 inch hair extension hairstyles
You will need to learn about all the styles available to choose the one that works best for you. 
Next, we'll put together the top 4 best-reviewed styles for you to compare and weigh in with your decision.
Curly
18-inch curly hair is quite an attractive option. There are many types of curls specifically for this hairstyle. Typical curly hairstyles are deep curls, medium curls, medium curls, and waves. The most stunning waves are natural waves and loose waves.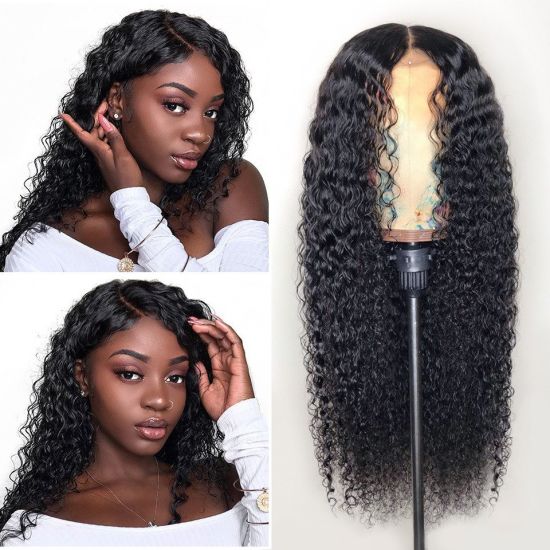 All hairstyles have their own style with their own beauty. The most important thing is still its preferences and suitability to your needs.
You should remember that when you wear curly hair, obviously it will bring a shorter look than straight hair. However, it still has a moderate length that can meet suitability of many women.
Dyeing
An 18-inch hair extension has a lot of attractive and diverse color options. Each skin tone will suit each different color shade.
For example, if your skin is white and light, you can freely choose for yourself any color, even prominent and bright colors like yellow, ginger, light pink, sky blue, etc. Because they are all really compatible with each other.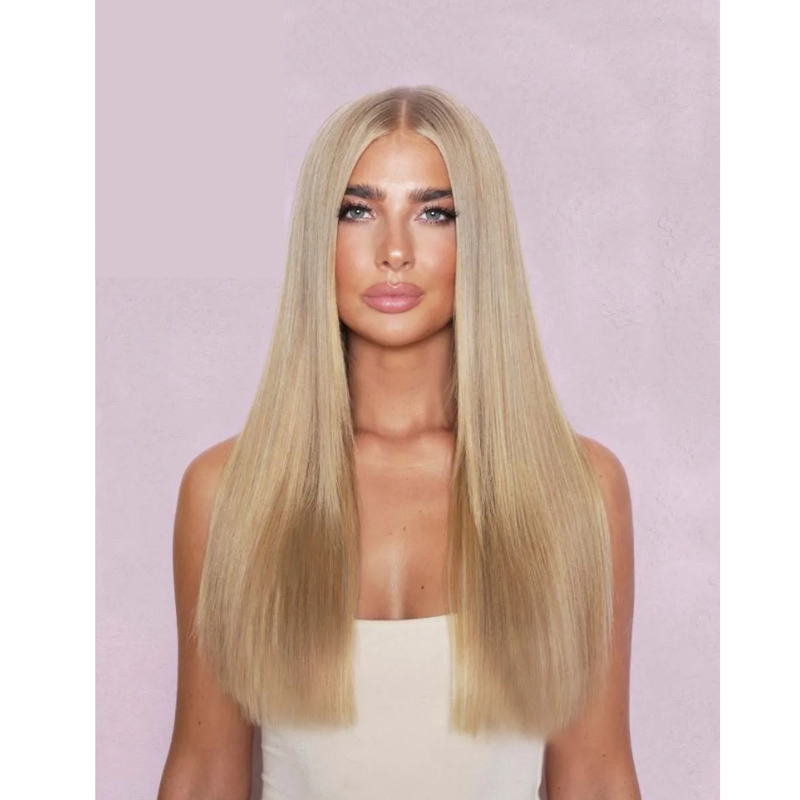 As for darker skin tones, you don't need to worry too much, because the color options are equally diverse.
Brown, chestnut, and honey are basic options that work best. In addition, personality colors such as orange, green, or blue will definitely help you to be more confident and shine.
When you use high-quality products such as Remy hair or Virgin hair, because of the strength, you can change many colors as you want. However, it should be moderate unless your hair will be lower quality.
Straightening
Straight hair is suitable when you want to have a basic hairstyle and give it an elegant look.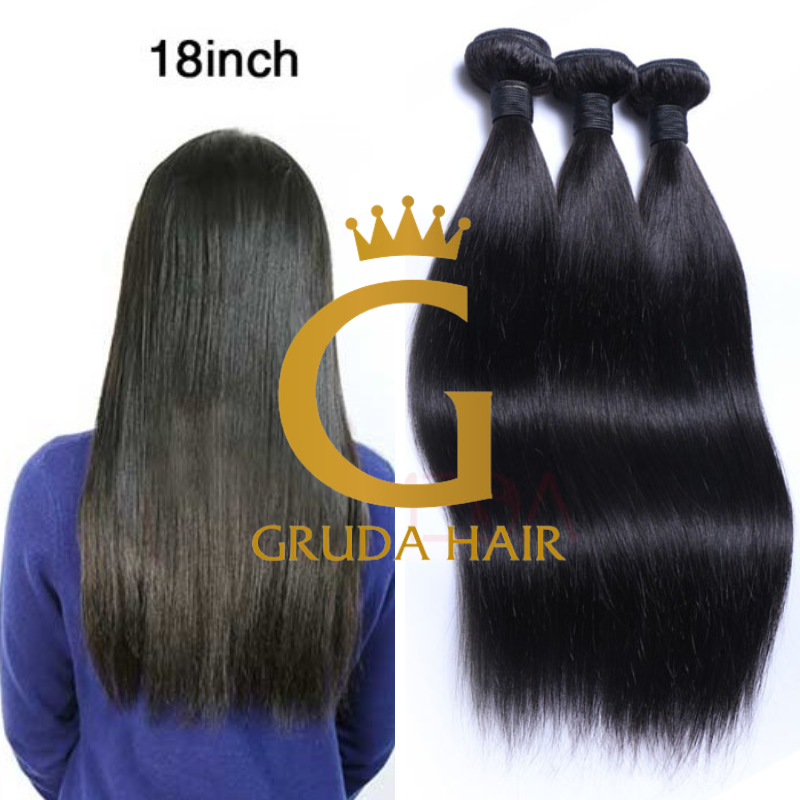 This is also the easiest hairstyle to use, they are the easiest to mix and take care of. Moreover, the straightened hair part allows creating many temporary styles whenever you want, simply with a pair of scissors, straighteners or curling irons.
Bone Straight Hair 
Bone Straight Hairstyles are similar to straight hairstyles. They have a rather basic form but give a high effect of elegance and luxury.
In addition, the hairs of this hairstyle are really smooth and much shinier. With more proper care, this hairstyle is difficult to bend. Therefore, bone straight hair is an ideal choice for women who prefer straight hair.
Moreover, it promises to meet the majority of the needs of customers with weak hair but still want to try a completely new style to have hair that looks stronger and more attractive.
Usage tips and tricks
To get the most out of your 18-inch hair extensions, it's important to know how to use them.
Especially, if you can do your own hair at home, you will save a lot of money compared to going to the hair salon and using the services there.
Soon we will show you how to use this hairstyle at home to save you time going to the hair salon and reduce other costs.
The simplest, most convenient, and economical way to attach your hair at home is to choose to use a hairpin and clip it yourself. Yeah, among all of the 18 Inch hair extensions, I recommend the 18 Inch Clip in and Tape in is the easiest, quickest and most cost effective item for users to use for a long time.
It's very simple, you just need to comb your hair and remove the tangles, then clip the ends of the hair into the middle layer of the hair extensions.
You can also choose a design that fits horizontally to add length and volume. Any option depends on the volume and length of the extension you want to add to your real hair.
Care instructions
Just follow the following instructions, surely you have grasped the most basic steps to take care of hair extensions for the best.
Patience
You should use a high-quality comb, preferably one specifically designed for extensions, and comb your hair at least twice a day to keep it in good shape and prevent loss of style, tangles, or frizz.
Use a heat protectant
Remember to use a heat protectant to protect your 18-inch extensions from heat styling and when sun exposure is required.
If possible, you should minimize your hair extensions during the heating process such as curling, straightening, etc. to keep your hair soft and shiny.
Store at the right temperature
Make sure you store your 18-inch hair extensions carefully at the right temperature. And there is one thing you should remember that do not place your 18 inch hair extensions from damp and humid places to avoid the moss and germ growth onto your hair.
Furthermore, avoiding direct sunlight is the best way to avoid sun damage.
Care product
Carefully select suitable, quality products to care for hair extensions.
You should also pay attention to the moisturizing ingredients in the product, keeping in mind that not all nutrients are suitable for hair extensions care.
We recommend looking at hair products of natural origin and containing the necessary ingredients.
In short, the right amount of water and the right nutrients will give you beautiful long hair.
Top 3 largest markets in the world
You can see that the market for hair extensions is a market with enormous economic potential. These days, there are countless hair factories distributing hair extensions to many continents, many countries. However, not all of them are reliable and can provide the best quality products to meet the satisfaction of users. Therefore, the important thing is to find out the places to import hair extensions.  
Here is our recommendation for wholesale hair suppliers around the world to import 18-inch hair extensions for business and use purposes.
We will further analyze the world's largest 18-inch hair extension markets, including Vietnam, China, and India.
Vietnam
Vietnam is a country with abundant and readily available raw materials.
Hair extensions of Vietnam are derived from 100% natural hair of Vietnamese people from each person to each group of people. Hair donors are usually women between the ages of 18 and 30. 
They often take care of their hair with natural moisturizing products. Therefore, hair collected from donors has the outstanding advantage of being extremely soft, strong, and thick.
Over the years, Vietnam's 18-inch hair extension has gained a reputation and a significant foothold in the world market with the most reasonable price, high quality, and wide range of products.
Vietnam hair extensions are always in high demand in many regions around the globe such as Europe, South Africa, Nigeria, Russia, Mexico…
I will introduce to you one of the best trustworthy hair factories in Vietnam.
Gruda Hair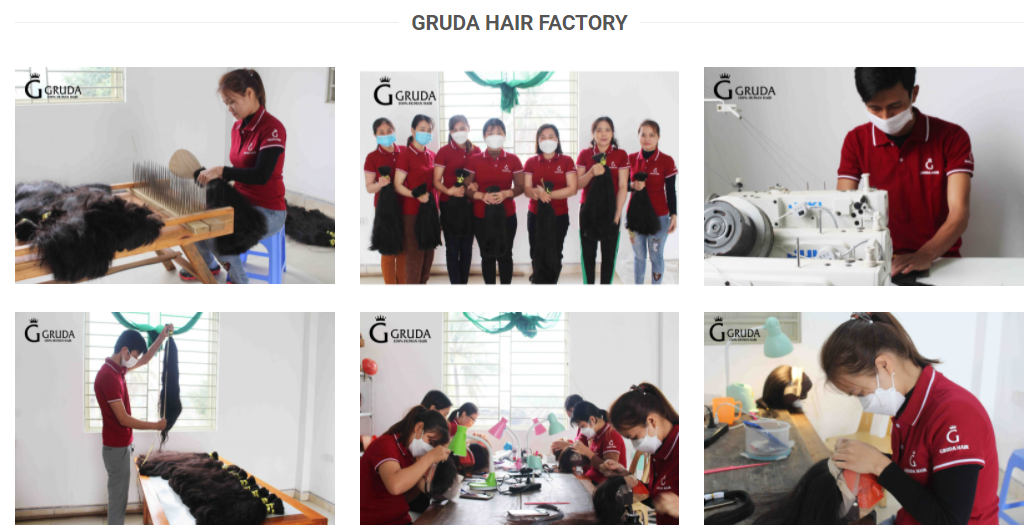 Up to now, Gruda Hair has more than 14 years of experience in the hair industry. With many years in this field, Gruda Hair has established a board network with many partners and clients all over the world. This company globally distributes hair extensions products, including Ghana, Nigeria, South Africa, the United States, the United Kingdom, Russia, Italia, Germany…
With relentless effort during many years, Gruda Hair actually has a deep insight of customers. From this, it improves the quality of products, patterns, designs of hairs to live up to customers' expectation as much as possible.
It has the notion "Never sell bad products to ruin your hair business". Every action always complies with its vision and mission. Its mission is to provide the top-notch qualities of products to bring users the most charming, elegant, attractive and natural appearance as well as a successful hair business for hair business owners.
Gruda Hair's products
It has a wide range of hair products with many colors, many types and many hairstyles. If you have a demand to buy or import any hair products you want, just directly contact Gruda Hair.
Here are some images of Gruda Hair products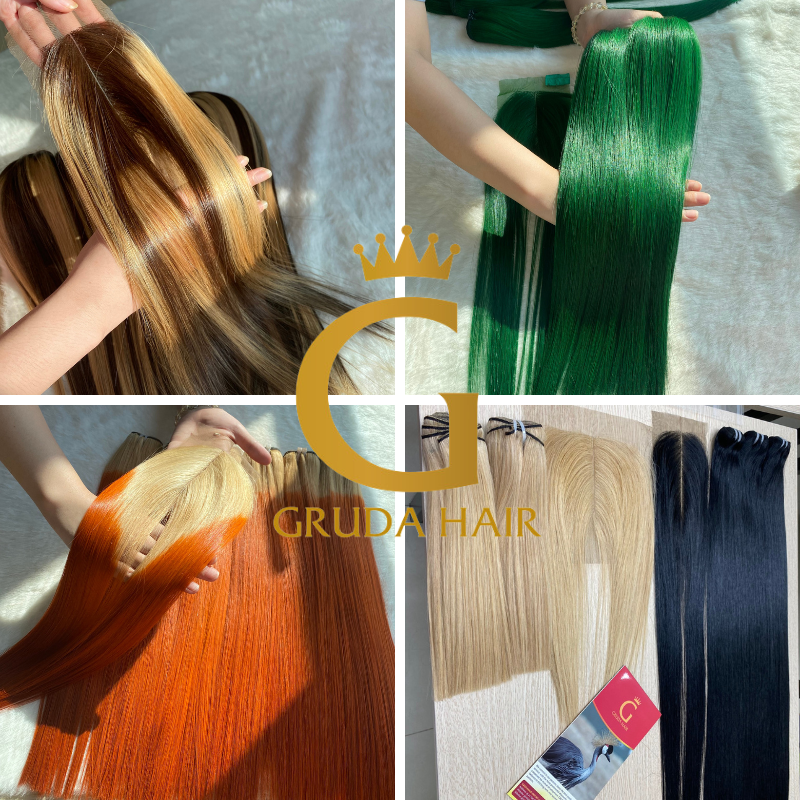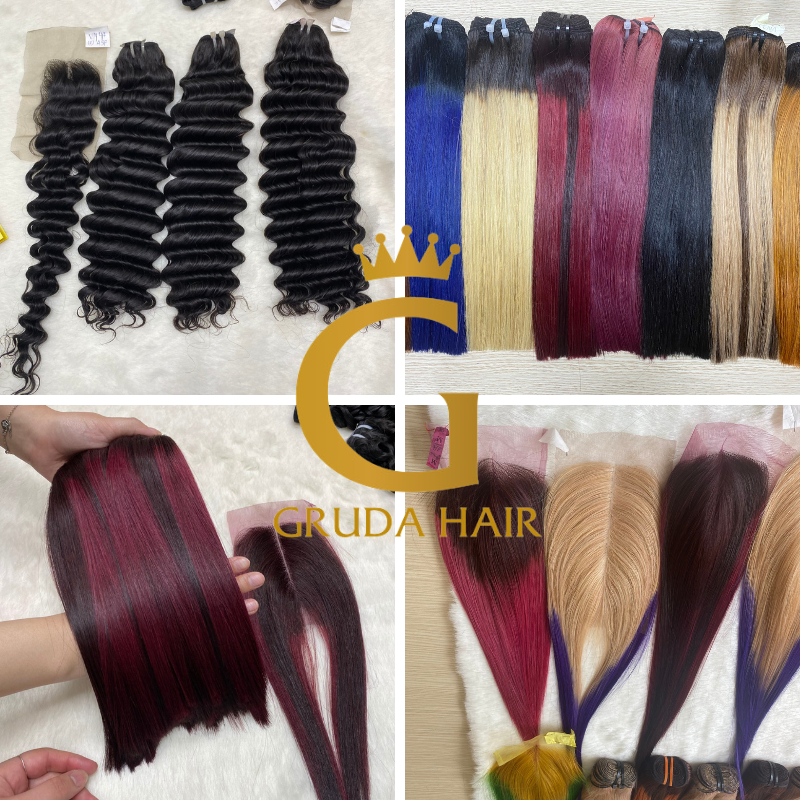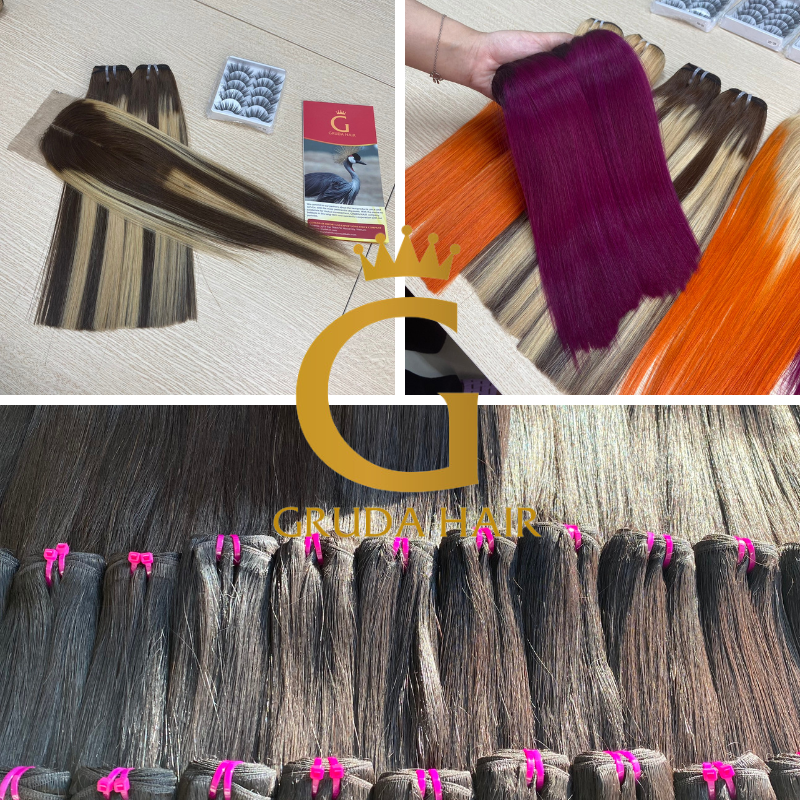 Moreover, to make your decision easier, I will give you the table price of Vietnamese hair extensions, particularly Gruda Hair.
China
China hair extension is one of the largest hair markets with a large production scale and high competitive advantage. 
It is worth noting that some products have the name of origin as China, but they do not necessarily originate from Chinese people donating hair.
In fact, China's hair-making materials come from only a small percentage of locals. It mainly comes from neighboring Asian countries like India.
Due to the large scale of production and the large amount of imported hair for production, it is even more difficult to control the quality of hair sources and products.
According to research, there are a number of hair factories in this country that treat hair with chemicals and mix them with synthetic hair to make the products more attractive, or even generate greater profits.
China's 18-inch hairpin used to be very famous for its diverse products and comparatively low prices. However, there are more and more competitors.
In addition, instead of cheap prices, customers are paying more attention to the quality and durability of hair extensions.
These effects require hair factories in China to carefully review and rethink the core value of 18 inch hair extension products.
India
India is also one of the earliest hair markets in the world. Can be said, the hair extensions industry in India is one of the most noiseless and business fields in this country. It has brought numerous profits for this country.
18-inch Indian hair extensions come from 2 main sources: temples and income from hair donors.
According to the beliefs of this country, it is believed that giving hair to the gods is a good act and you will receive support from them.
So every year a large amount of hair comes from temples. Here, people will donate their hair to show their hearts to the gods.
However, the demand for hair extensions is increasing, it is even smaller than the supply.
Meanwhile, the amount of raw materials from temples is not enough and cannot meet the demand for production inputs, so hair factories in India have to look for other sources. It's mixed hair.
Manufacturers will collect hair from many different places such as salons, and shops. Accordingly, most of the outer cuticles do not follow the same direction, making the hair tangle and unrecoverable.
FAQs
What length should hair extensions be?
In general, it's better not to wear your hair significantly longer than your natural hair length.
Note that a maximum length of 3 inches to 4 inches more than your natural hair length would be the ideal choice. However, that also depends on your personal preference.
Can you put hair extensions in really short hair?
For the most natural results, your hair should be at least 4 to 6 inches long.
This allows your real hair to cover the clips or joints of the extension. It also ensures a secure hold on the hair extensions.
Can you swim with hair extensions?
The answer is absolutely world.
Be careful not to leave your extensions in the water for too long and make sure to dry them as soon as you get out of the pool.
Are clip-in hair extensions worth it?
Clip-in hair extensions are worthwhile for anyone who wants to change their hair style or appearance.
They are also one of the least damaging to the user's natural hair, as each clip comes with accompanying support from silicone bands to help prevent damage and discomfort.
Can you let hair extensions dry naturally?
The short answer is no.
The reason is that wet hair is much more vulnerable and damaged. That's why you should use a hairdryer to dry your extensions and make sure you never go to bed with wet hair.
Conclusion
Thus, you have learned all the useful information about 18-inch hair extensions.
If you find this article valuable and interesting, don't forget to share it with your friends and other consumers.
And do not forget to follow our website to update the latest information about this hairstyle and related issues.