Let's discover about 20 inch hair extension in this post. Its length can greatly meet standards and needs of a large number of women.
It is clear that there will be many of you who love long hair, but not everyone has the ability and patience to take care of them. In fact, it is very easy to damage as well as difficult to keep.
Therefore, the demand for wigs is increasing, both in quality and quantity. Especially the real hair extensions, it's really perfect for your needs. A length of 20 inch is too suitable for beautiful ladies. Let's find out with us 20-inch hair extensions: Everything you must know.
What Is A 20-Inch Hair Extension?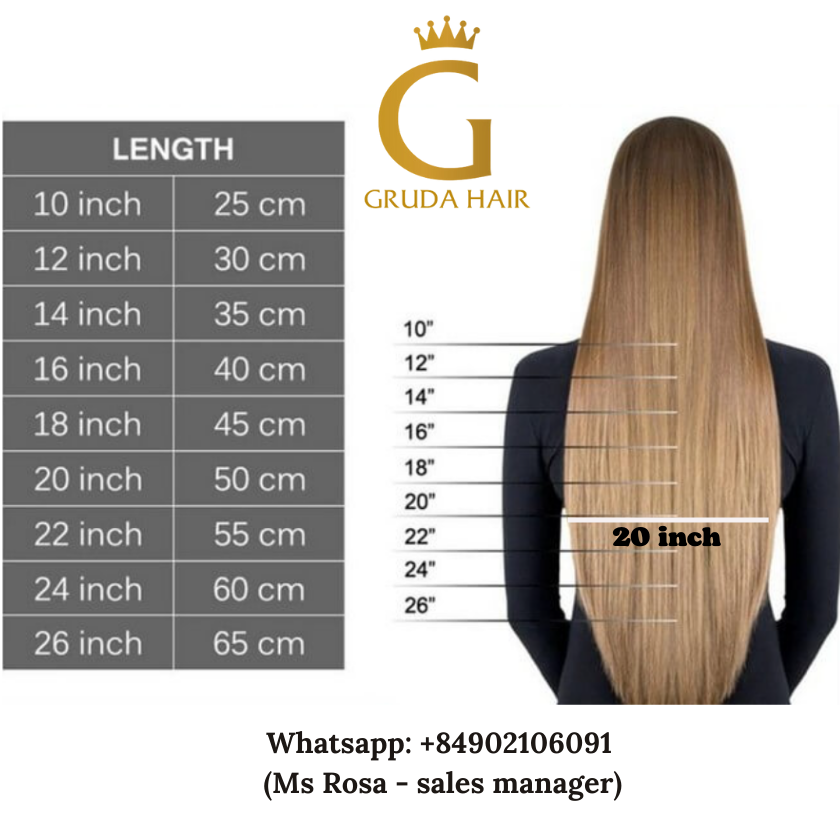 20 inch hair (50.8 centimeters) is understood as hair of a large length. They are suitable for women who prefer youthfulness and tenderness. These hairs can be created into many styles that serve different purposes.
Can be said, nowadays, the 20 inch long hair extensions is one of the must-have items for many girls and women. Thanks to it, users can have thicker natural hair with longer, more voluminous and many remarkable characteristics.
In the hair extensions industry, there are an abundance of hair extensions in various lengths such as 10 inch, 12 inch, 18 inch, 22 inch, 24 inch, … up to 36 inch. However, a 20 inch long hair extension is considered the most suitable and clever choice for those who are fond of charming medium long hair. As a result, there is no doubt that 20 inch long hair extensions are increasingly prevalent and widely used by consumers all over the world.
Characteristics of 20 inch hair extensions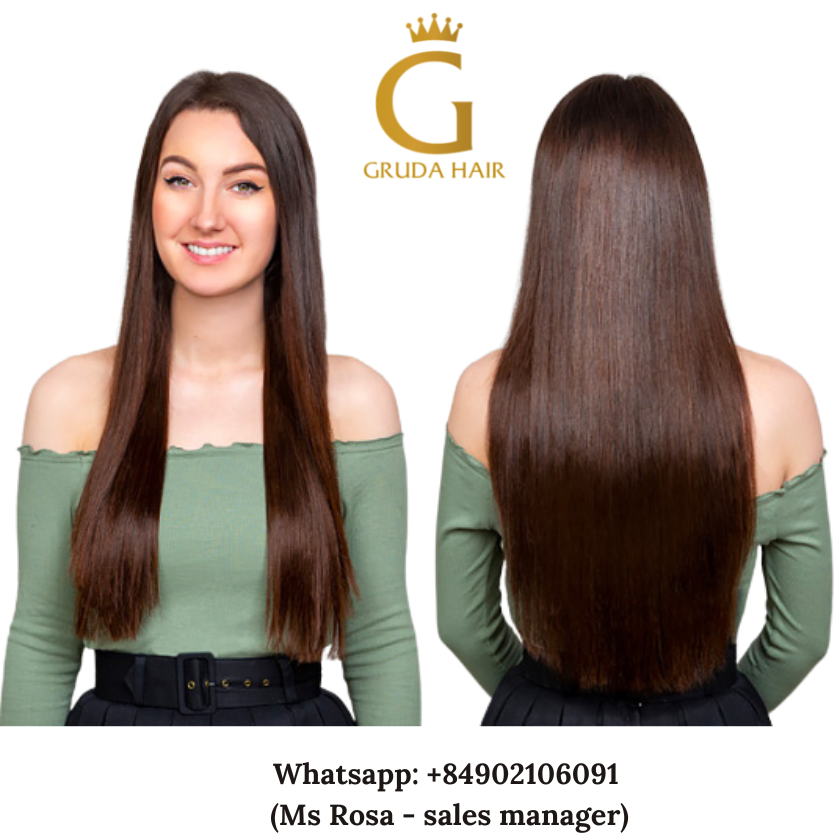 The length of 20 inch long hair extensions
Of course, 20 inch long hair extensions is exactly 20 inches. Converting it into centimeters is 50.8.
The height of 20 inch long hair extensions
The length of hair also depends on the hairstyles you are wearing. Definitely, if you are wearing curly and wavy hairstyles, 20 inch hair extensions will be 3 or 4 centimeters shorter compared to when you wear straight hair.
When to use a 20-inch extension?
A new look
Sure, a lot of people look to hair extensions for the purpose of experimenting or more specifically, to experience new things. From there, you can easily experiment with what you want.
For example, you like long smooth hair but the time to grow them is too long. Your patience or your environment or work won't allow it.
Don't worry, a 20 inch hair extension with a variety of models and forms will meet and satisfy all your needs. Every problem from high to low will be solved.
For example, if your hair is long but they are too thin and look unattractive, then a 20-inch hair extension is not a bad choice. Or want to transform into a sexy girl with curly hair.
Attractiveness
Are you a person who loves personality, if so, this is probably not a bad choice? Real girls with long hair are always more attractive than ever. And the 20-inch length is great for that.
The trendiest curly hairstyles or vibrant hair colors that can't be dyed on real hair, are everything you could want in terms of a bold yet safe change.
Believe me, it's really worth what you spend, the beauty of the passion you always pursue.
Collection
Maybe you've heard of them, or you might find it odd or frivolous. Collecting hair is quite interesting and popular with many people.
Often the hair is long, especially with an ideal of 20 inches. They are very sought after and welcomed wherever they are.
So if you have a need to collect them, this length is not a bad choice. Since they are quite difficult to find and produce, their beauty and good quality are undeniable.
Types of 20 inch hair extension
20 inch Clip-in hair extensions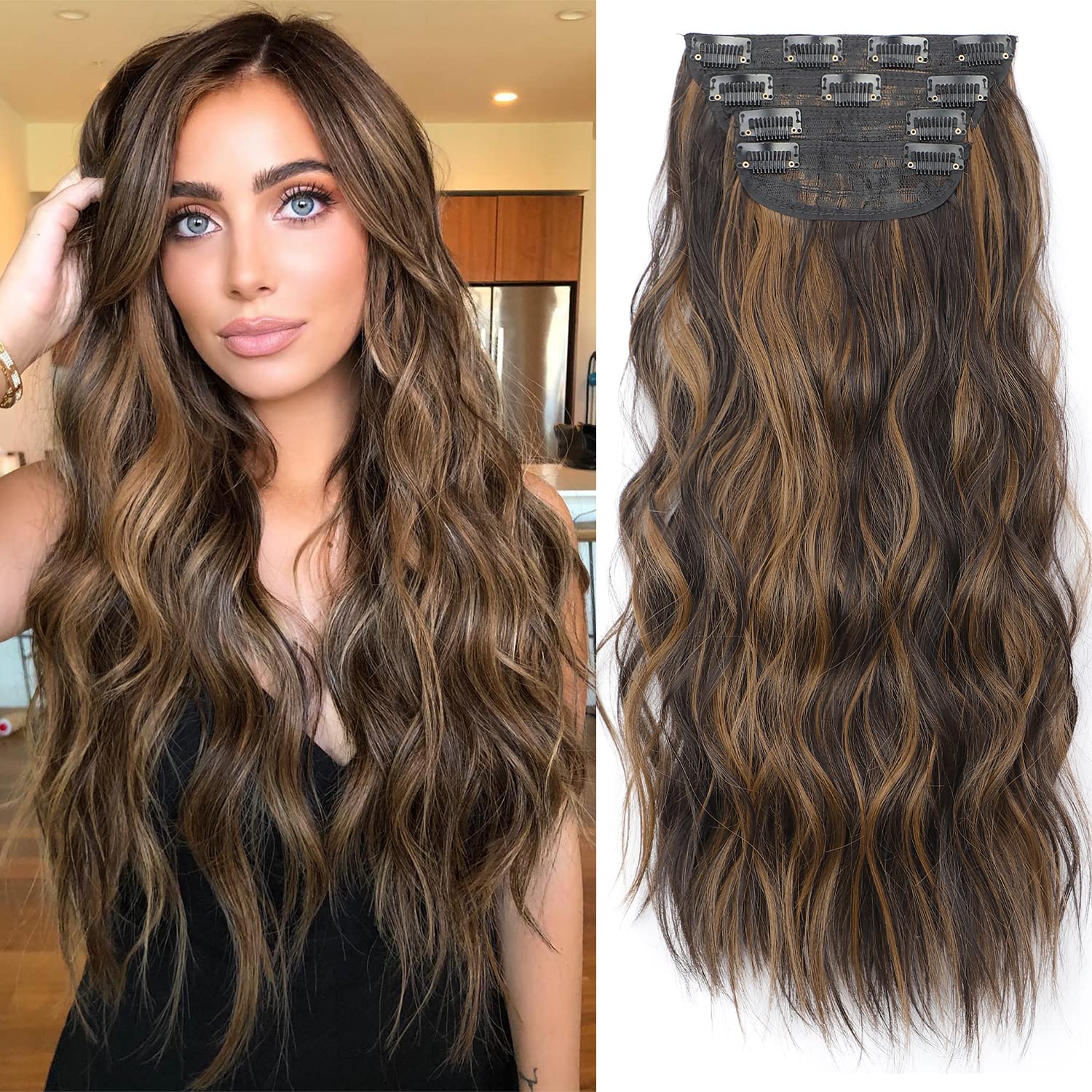 This hair is a hair extension sewn at the top and then attached with micro clips. Due to temporary attachment, it is easy for users to install, maintain and preserve. It takes less time and effort for customers to wear this hairstyle. Because of its convenience, it is the most prevalent choice for busy women or who want to change their hairstyle frequently.
20 inch Tape-in hair extensions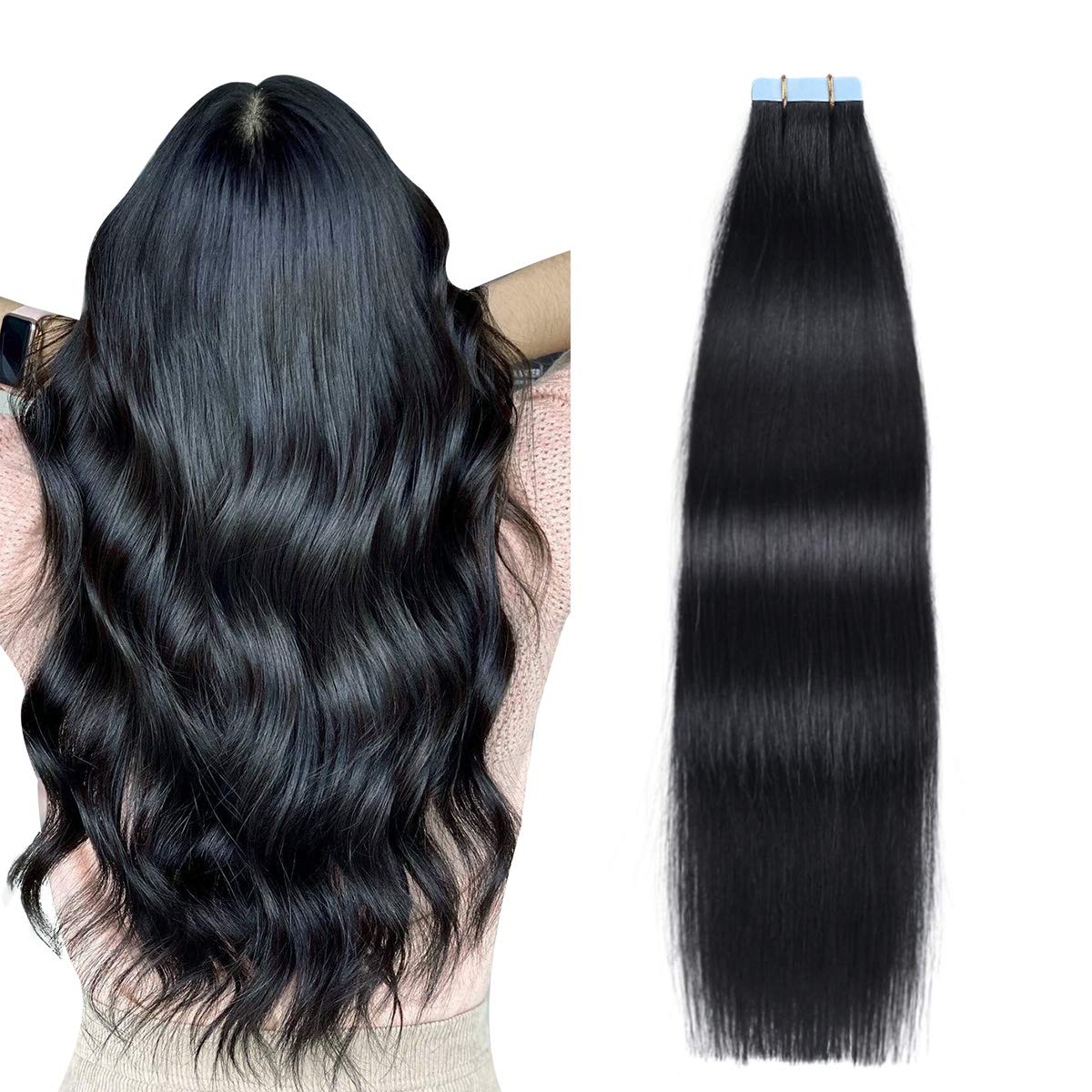 Tape in is a type of hair extension attached to sticky tabs. With the thin layers, 20 inch tape in hair extensions can blend well with your original hair, which brings you the most natural and voluminous hair.
For this hairstyle, it is easy to apply, you just need to peel off the paper covering tapes, and then directly stick it near the roots of your hair.
20 inch Sew-in hair extensions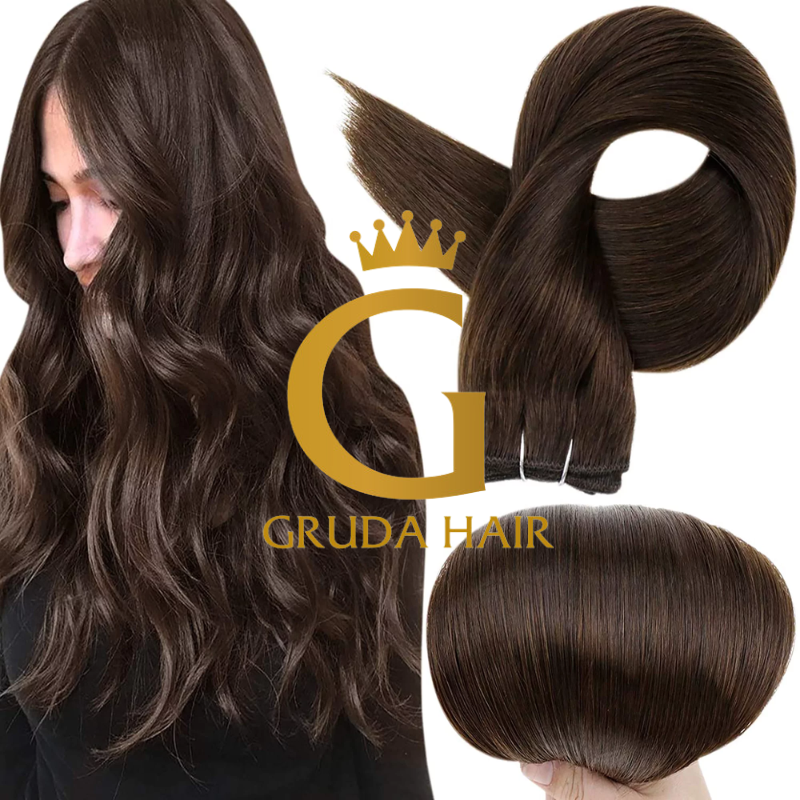 Sew-in can be also called as weft. The installation process for this hairstyle is more complicated, so the users should have the assistance from hair salons or experts.
When successfully applied, users can wear it in several weeks without removing it daily when you need to wash and take care of it.
20 inch Microbead hair extensions
This style is a permanent hair extension. When applying it, you need to be very careful. The attachment process will take 1-2 hours, otherwise it will cause damage to natural hair.
With this hairstyle, 20 inch Microbead hair extensions can be adjusted to the length you want. It has each piece, therefore, before applying, you can create any style you want. But it's up to you. After applying, you can restyle it.
For this hairstyle, with proper maintenance, 20 inch Microbead hair extensions can last for 6-8 months and reuse for the next time.
Styles of 20 inch hair extension
20 inch straight hair extensions
This hairstyle is really popular, and almost everyone can be suitable for this hairstyle.
20 inch bone straight hair extensions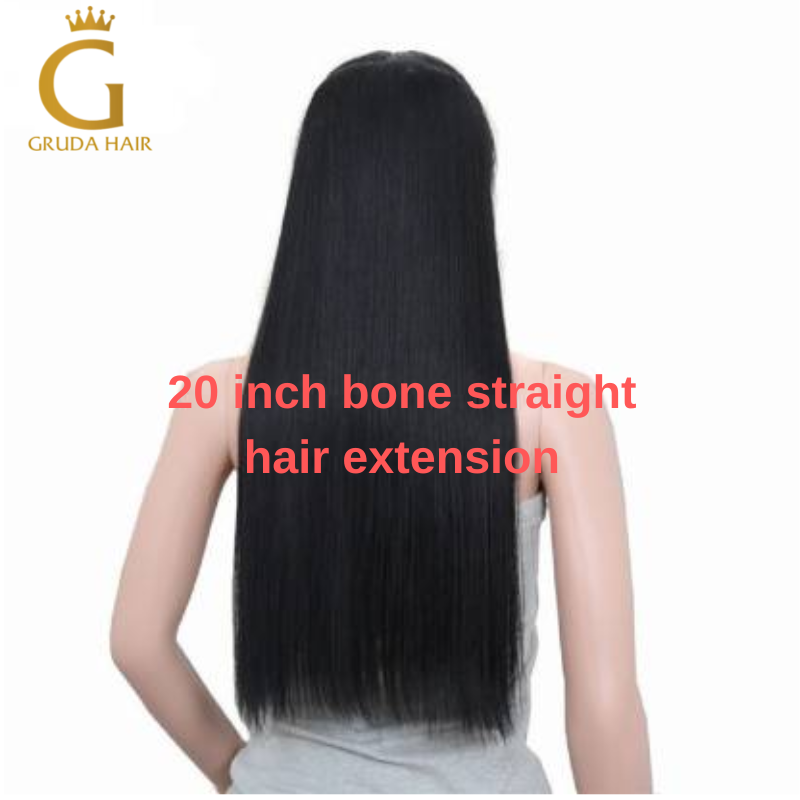 Bone straight hair is the best choice for those who are interested in smooth, bouncy, sleek hair.
Although your customer is so difficult to treat, they are more likely to be keen on this hair extensions style.
20 inch color hair extensions
Nowadays, there are a wide range of products with many available colors. There are many colors, including highlight, ombre or hidden colors… are also never out of fashion.
Moreover, you can dye by yourself after buying hair extensions. Obviously, it is a good way to ignite your creativity. Besides, there is an interesting pattern that hairstyles have a perfect blending of at least 2 color shades.
20 inch curly hair extensions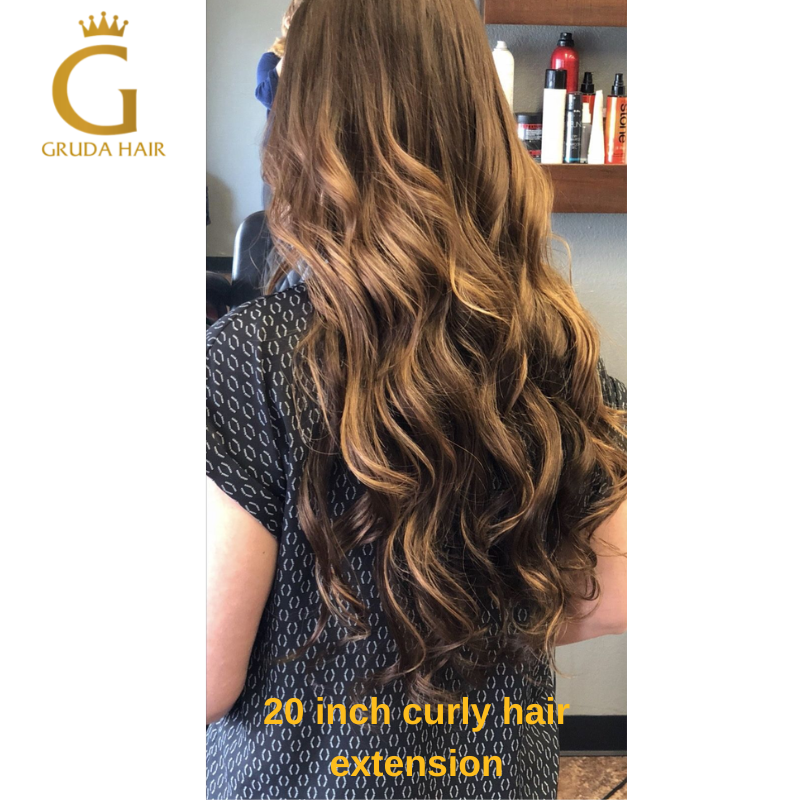 In terms of curly hairstyles, there are a wide range of curly style collections. You can choose a kinky, curly, wavy, loose wavy style… They are really beautiful, amazing and charming. It can bring users the most attractive and confident and more importantly, the voluminous hair.
What Is The Price Of 20 Inch Hair Extensions?
Origin – Hair source
Not too surprising if the origin of the 20-inch hair extension affects the price quite a lot. Because hair origin will determine the quality of hair extensions. In fact, the price of Asian origin will be higher than in other regions.
Hair source will decide the distribution process, Virgin hair, Remy hair, Non-Remy hair, so obviously hair origin plays a big role in determining the price of 20 inch long hair extensions.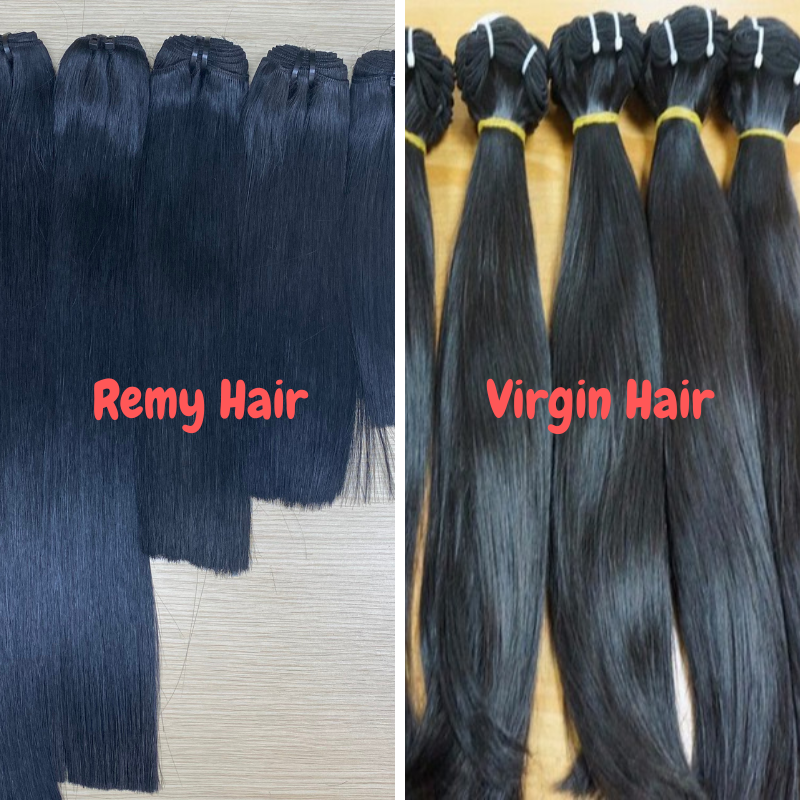 It depends quite a bit on the quality of the hair because for some areas their hair quality is very suitable for making wigs. With beautiful hair shapes and long retention times, their prices are higher and vice versa.
Hair Grade
Sure, this can be a major determinant of the price of an extension, moreover, at 20 inches long, they're actually going to be much more demanding.
The quality arrays will be graded from high, to medium to low. Depending on your ability, you can choose the most suitable 20-inch hair extensions.
In the Vietnam hair industry, there are 3 grades: Single Drawn, Double Drawn, Super Double Drawn. Each grade will have a different price range.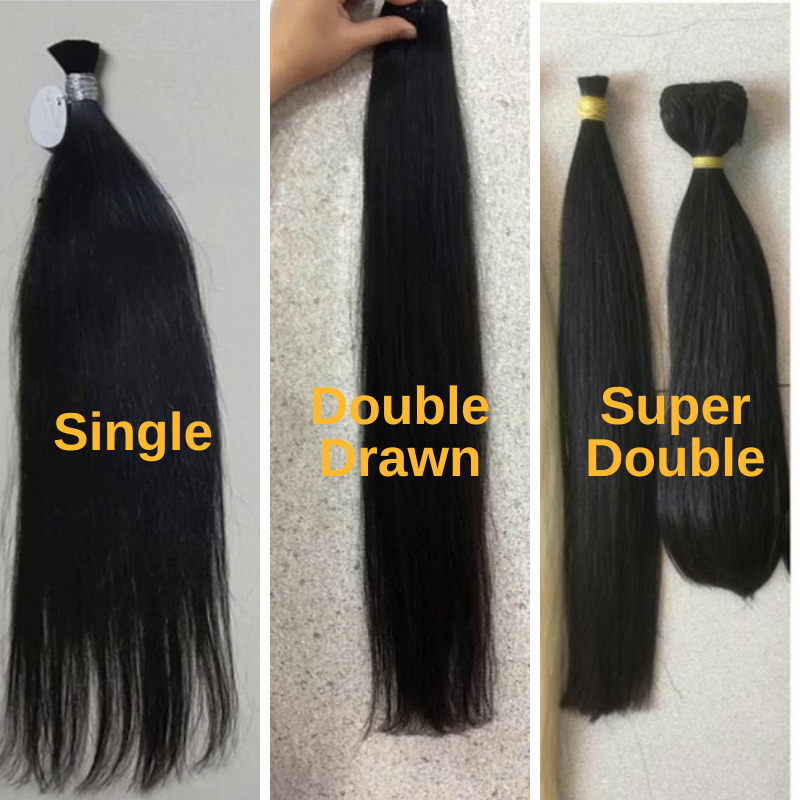 More information will be shown below
Single drawn hair: 50% hair of the same length, the cheapest price of all types.
Double drawn hair: 60 to 70% hair of the same length. The quality is good, the price is average.
Super double drawn: Up to about 80-85% of the hair is the same length. This is the best 18-inch hair extension and requires high standards in the hair selection process.
Style
When buying any coarse hair, it will usually be in its natural shape. Therefore, the price of it can be cheaper compared to complicated hairstyles. The variety of hairstyles almost all need to go through processing and processing stages. So their prices will definitely be higher than usual. As such you also need to consider them. The most economical method is to style normal hair yourself.
Standing before various selections and wondering how to choose is always a question that causes many concerns for every girl when choosing to buy. Especially with designs with lengths from 20 inches.
Where To Buy 20 Inch Hair Extension?
As we have just discovered above, the demand for hair products in general and 20 inch hair extensions in particular is high. To respond it, the supply for hair extensions industry is greatly increasing. Therefore, there are a wide range of hair suppliers appearing in the hair market. Among all of reliable ones, I want to recommend to you a top Vietnam hair factory – Gruda Hair
About Gruda Hair
It is a hair firm in Vietnam – distributing hair extensions on the global scale. You can totally rely on this hair supplier. With more than 14 years of experience, Gruda Hair is confident and proud to become your long-term partner.
With the effort to bring clients the best hair products, it becomes a dependable supplier to over 3000 wholesale and retail hair customers worldwide. In every activity of company, Gruda Hair's action closely sticks to the goal that is to provide every ladies with an exceptionally natural look, confidence, and a sense of satisfaction.
About Gruda Hair's products
It has been a reliable hair distributors of many hair salons owners, hair vendors… so far. There are an abundance of hair extensions products in Gruda Hair. Clients can have a wide range of options when visiting this firm.
20 inch is only one of the most prevalent hair items of Gruda Hair among other popular ones.
Considering the customers' satisfaction and beauty as the most essential factor, Gruda Hair offer items with two major qualities: virgin human hair (hair gathered from a single donor) and Remy human hair (the hair collected from two or more people and every strand goes in the same direction).
In terms of the diversity of types of hair products, Gruda Hair has wigs, bulk hair, tip-in hair extensions, tape-in hair extensions, hair extension wefts, clip-in hair extensions, closures, frontals, ponytails and so on.
Accompanying hair types, there are a large number of hairstyles you can unlimitedly choose:  From straight hair to curly hair, natural color hair to bleached or dyed hair. Some of the significant hairstyles are bone straight hair, pixie hair, afro kinky hair and body wavy hair, and full of color choices: piano, choco brown, blond, red wine and so on.
You can consider some products of Gruda Hair here, below are images of those.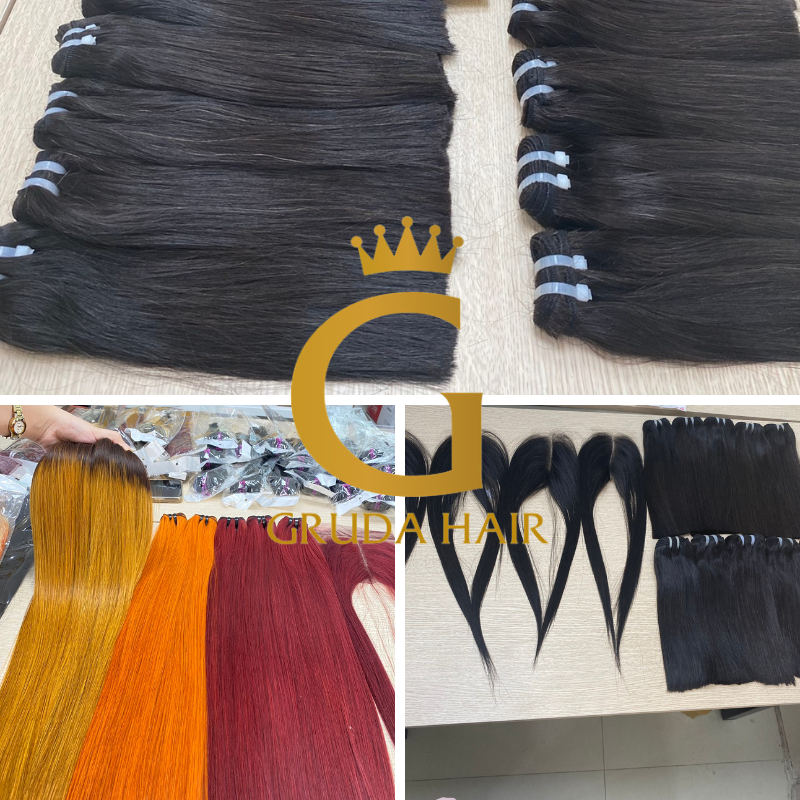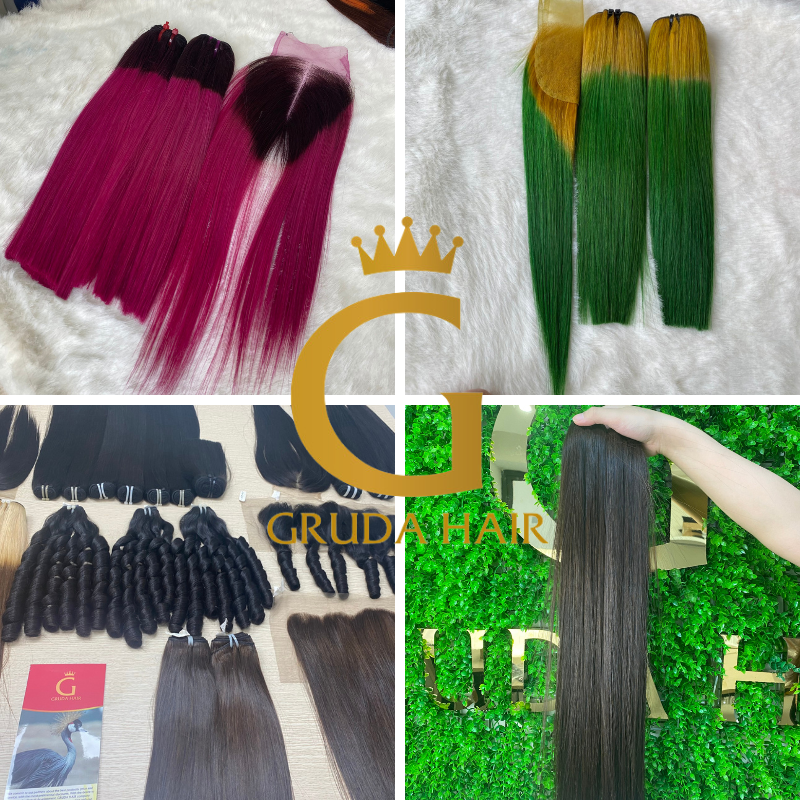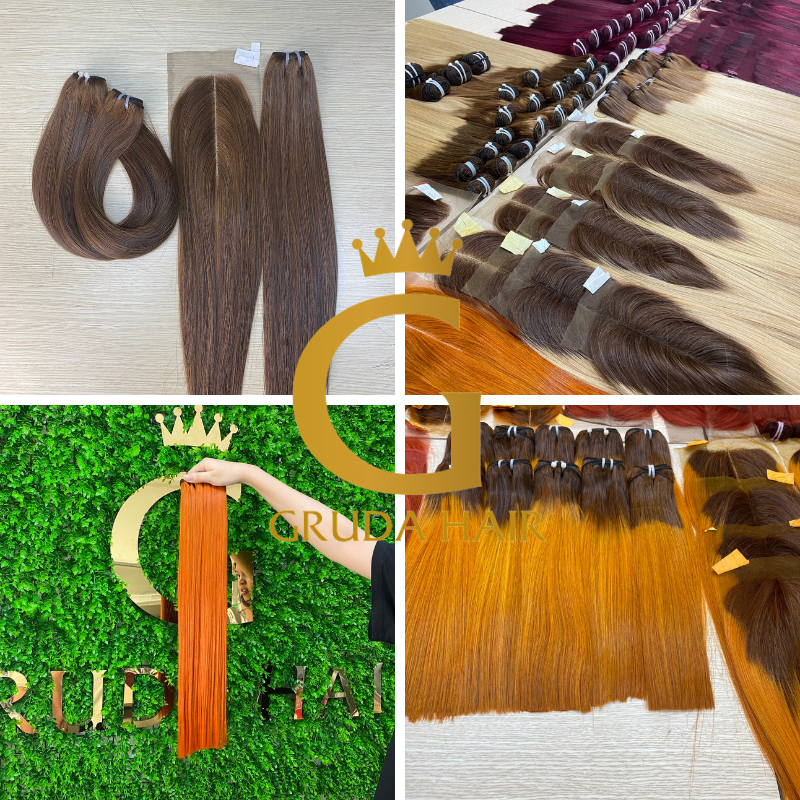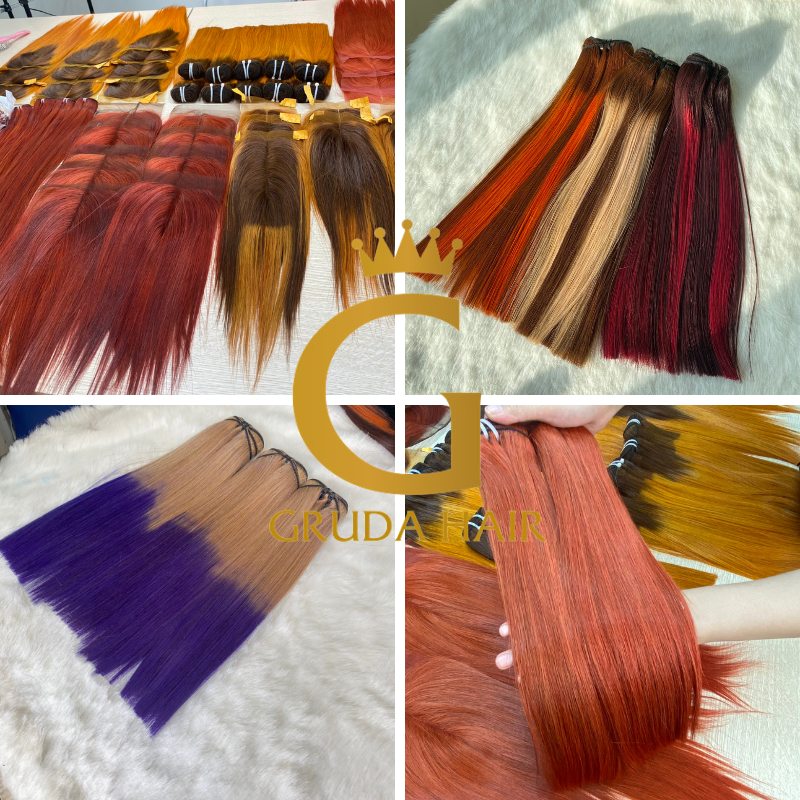 To make your consideration more easily, I will show you the table price of hair extensions products of Gruda Hair.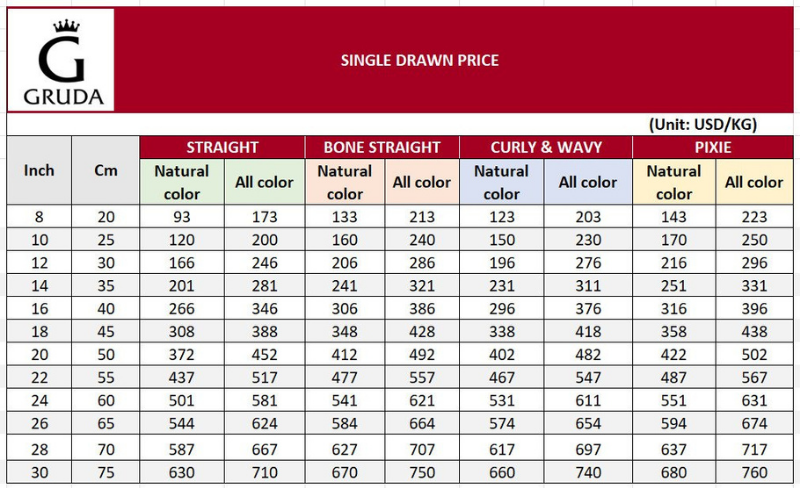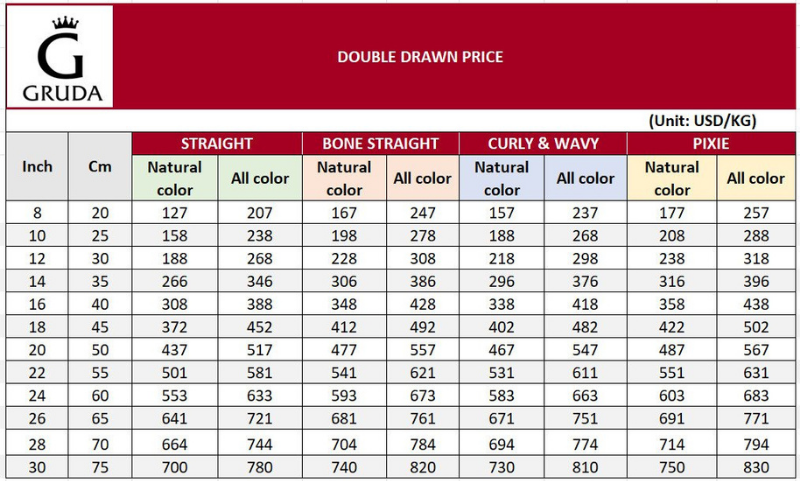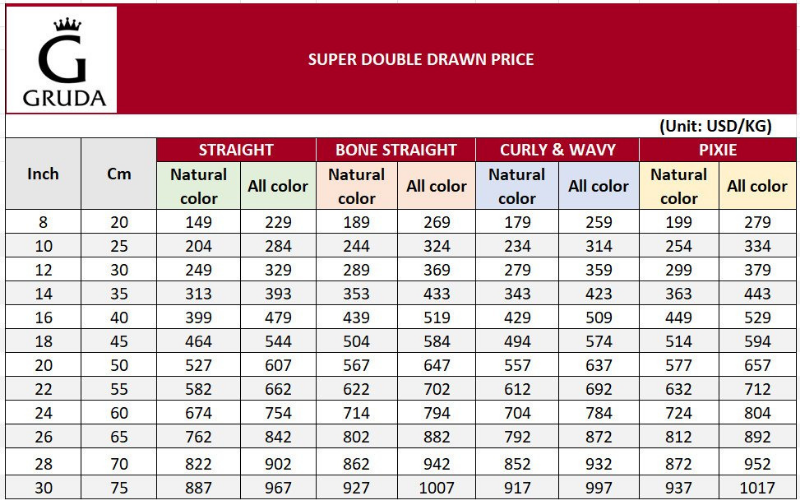 FAQs
Where do 20 inch extensions fall?
You wonder where a 20-inch set of hair will be applied and if it will be enough for you. First, let's go with us to discover how long this product is.
According to research on some basic human forms, 20 inches will fall comfortably below the bust. At this length, they will droop at a pretty ideal length for you.
Ranging in length from 20 inches they are truly versatile, making them the ideal size and length for those of average height. It will create the effect as well as the amazement of the change.
In fact, not only do they look the most natural after application, but they can be safely curled, styled, curled, and dyed just like your natural hair.
Is 20 hair extensions enough?
Of course, they do not have to be a professional to be able to determine the amount of hair you need to connect in one go or enough for the whole. However, you can completely state the desired thickness and listen to advice.
The question of how many times or how thick is enough is always asked by customers when shopping or using the service. In fact, to know the necessary number of concatenations you need to know.
Some know their exact coverage but others have no idea of what they really need that is very different from what they think they need.
It's really no surprise that salons and freelance hair extensions are using a variety of ways to calculate coverage.
So, whether you're just considering applying for hair extensions or you're an experienced hairdresser, if you want to know how many hairstyles are right for you, read on….
The word coverage increases a lot when looking at the hair extension rack – all this means is how many individual hair extensions are applied to achieve your desired look.
For the whole is approximately 50 micro links (2-3 rows)
With the top half is approximately 100 micro-links (3-4 rows)
A three-quarter head is approximately 150 micro links (5-6 rows)
Are 20 inch extensions long?
First, you need to know if your hair type is dense or not. This doesn't mean the thickness of each strand of hair but the amount of your hair.
We have clients with very coarse and thick hair but since they don't have much hair, their overall hair density is Good/Medium. We also have clients who have very strong hair but lots and lots of it, making their overall hair very thick and dense.
Medium length, thin/smooth hair takes only a minute or two to dry, clearly seen at bob length, which is very thin in a ponytail. This hair type is often difficult to manage and when it reaches shoulder length, it is very thin and frizzy.
Ali Larter's photo is the best we can think of to demonstrate this hairstyle. In a snap of every other celeb we find with thin/smooth hair, they're wearing their hair up for extra volume or sporting the shortest of the hairstyles.
How long 20 inches do extensions last?
Our 20-inch hair clips are made from the highest quality Remy human hair, however, the longevity of extensions depends on how well they are cared for and how often they are used. Clips in our extension can last up to 12 months with proper care.
Can you put hair extensions in really short hair?
Have you been looking for hair extensions for short hair? A great way to transform your short hair is to add extensions and yes, you can still wear your hair up even with short hair.
If you currently have short hair (especially due to a bad haircut), you may be looking for hair extensions to change your look and have long hair again.
Tired of not being able to wear a ponytail? Remember your long hair? Can have short to long hair for an hour! What seemed unattainable, time-consuming, and inaccessible is now at your fingertips. Think big;
You can have short to long hair in no time and no one will even know you are wearing extensions. Tape-in hair clips is a great solution for girls with short hair who want longer hair.
Tape extensions are thin, invisible, lightweight ribbons that apply to your hair (no tools or chemicals required). This method is a new trend that people with short hair use to achieve confident beauty, short and long hair instantly. There's always room for fun when it comes to long hair.
Seamless tape in hair extensions will give you the length and body you need in no time and eventually give you that full high ponytail!
Conclusion
The popularity of hair extensions, especially extensions, makes it especially important for you to consider and decide carefully before choosing while using them.
In this article, we have mentioned the notes as well as the necessity in the process of choosing the best hair extension products. So you can rest assured about them.
Finally, these notes and details will help you in the selection process. Hope the search will be easier with the notes
Thanks for reading!
Contact