This article will help you to gradually have an in depth view about hair business in the world. Check it out now to discover.
If you are a hair business owner and are planning to invest more capital in this market, first you need to grasp the market situation as well as come up with a suitable strategy for its development. The following article will be like a big picture so you can better grasp the current hairdressing market in the world. 
The Global Hair Wigs And Extension Market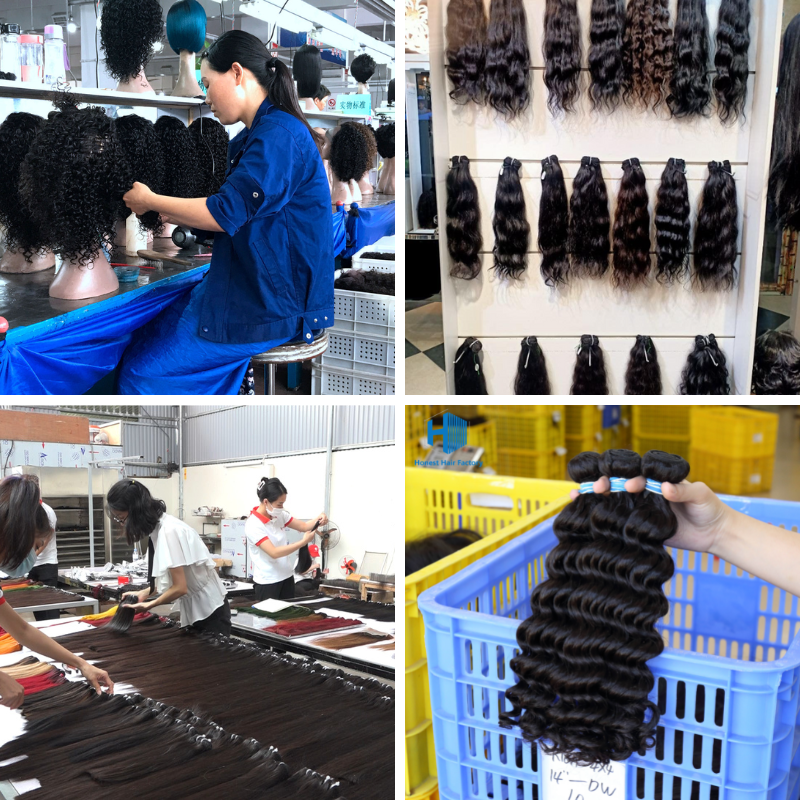 Before, we talked about the industry market extensions in 2022. Thereafter, we will evaluate the period 2018 – 2024 to have new orientations and visions for developing this hair extension business. In recent years, this segment of hair extensions has accounted for nearly 20% of the total revenue of the beauty market in the world.
We can see an apparent change in the people's spending patterns, which has a significant impact on the hair extension business market. In China and India, the middle class is always the number that holds the leading market share in the hair extensions and wigs market. It tends to increase much faster than in Europe and North America – where the number of hair extensions and wigs is growing.
However, in contrast to the population situation, their income has increased significantly, so their living standards and shopping methods also have a significant influence. They gradually become groomers, more concerned with their appearance than ever before.
Factors leading to the hair industry growth
Below are the factors that are likely to contribute to the continued growth of the wig and hair extensions market between 2018 – 2024:
Rapidly growing numbers of African-American consumers.
The middle-class population will be the primary source for the hair extension business market.
The demand for beauty accessories and lifestyle is becoming more and more critical.
Growing demand because of following the styles of celebrities and PR/Advertisements on Social Media.
The global wig and hair extensions report includes market size and forecast, market share, industry trends and growth drivers, and segmentation of suppliers. This market research will consist of many different factors and aspects, such as classification by hair type (hair extensions, wigs), hair materials (natural hair, synthetic hair), users (hairdressing industry), fashion industry, personal consumption, sales channel (wholesale, retail, online sale on e-commerce platforms), geographical region (APAC, Latin America, North America, Europe, MEA).
The study, looking at the current dimensions of the global wigs and hair extensions market and the drivers for 2018-2024, will include a detailed overview of some of the driving factors to limit and grow.
Segmentation
According to this report, market segmentation will be based on various factors such as type, material, customer file, distribution channel, and, finally, geography. The global hair extension market will reach >5 billion USD by 2024. Besides, those active in the entertainment industry, such as actors, singers, and MCs, will use wigs, this hair extension more and more. When it comes to revenue, wigs are always the first choice of those in the entertainment and fashion industries. Besides, the increase in hair loss problems among people is also one of the factors helping to drive the wig market.
Quality: human or synthetic hair
Wigs and extensions can be made from natural human hair or synthetic fibers to increase affordability for consumers. As shared, China is the leading producer of wigs for consumers due to cutting-edge logistics and technology adoption in production. However, actually, the majority of hair source of China hair companies are collected from India. From this, we can easily refer that hair extensions from China are actually from India, but after the chemical treatment, it is turned into bouncy, smooth and beautiful hair, a final product from emerging on the market. In fact, the market for wigs and hair extensions will continue to grow in the future. Of course, this will be pretty beneficial in the future, especially for manufacturers, to import cheap but still quality hair.
Distribution: online or onsite
Wigs and hair extensions will mainly be distributed through online and retail channels. Products are always available for users to easily observe, review, consider and order on the e-commerce platforms or can go directly to the store to try. In addition, currently, there is a tendency to advertise wigs and hair extensions on social networking platforms. These platforms have make a significant contribution to boosting sales. Like the US, the UK will mainly distribute products in specialized beauty stores, supermarkets, or online marketplace platforms. The distribution and supply of wigs and hair extensions through retail stores and supermarkets has shown increasing signs.
In the entertainment and fashion industries, hair products are becoming critical. Manufacturers and fashionistas always require a stock of wigs for actors and models to have ready-made props for different roles and performances.
In Africa, Latin America, or some other countries, wigs occupy more of the market than hair extensions. The increase in hair-related diseases also helps to promote the industry quite a bit. Due to the number of people with hair loss, baldness, or those who often have surgery or radiation therapy, the use of wigs is always the first choice.
Segment by type: Wigs and extensions
User segment: entertainment, fashion & personal consumption.
Material: natural hair & synthetic hair.
Market: Sell, wholesale, sell on the e-commerce platform.
Geography
The availability of quality wig products is always trusted and chosen by customers worldwide. We can see the global hair extensions market is trending to expand at a fantastic rate. In North America, the demand for wigs and hair extensions is considered to be the highest in the US. With people's disposable income increasing, their consumption and shopping needs will also increase.
The APAC region is the largest supplier of mature hair to produce wigs and extensions. As demand becomes increasingly essential, the Asia Pacific market is obviously potential, therefore hair manufacturing sites have been established in Asia such as China and India.
Accordingly, the per capita income in European countries allows them to comfortably spend and invest in hair extensions and wigs manufactured from natural human hair. The penetration and use of wigs and hair extensions are relatively higher here than in Africa and the Middle East. The users in the African region have more demands than the other, it can facilitate startups that can also emerge from this market.
Market Segmentation Geography: APAC, Japan, South Korea, Germany, UK, Spain, US, Middle-East & Africa, Nigeria, Latin America, Mexico, China, India, Europe, France, Italy, North America, Canada, South Africa, UAE, Brazil.
Key Vendor Analysis
Manufacturers have constantly introduced the latest products to the market. However, this cannot increase the demand for customers to buy wigs and hair extensions. Therefore, market demand will mainly be driven by new trends introduced through KOLs, Influencers on social networking platforms.
India is seen as one of the largest hair suppliers, and the activity is on the supply. The wig and hair extension market is currently led, controlled, and distributed by foreign companies. Some small local companies are to expand their development into foreign markets such as the Asia Pacific or Latin America – countries with rapidly growing economies.
In addition, improving global economic conditions is likely to spur the development of new products. A fiercely competitive environment is expected to explode in the shortest time.
Key Market Insights
Here are a few market size analyses for 2019 – 2024:
Given the size and growth prospects of the wig and hair extension market.
Provide detailed, comprehensive information on the latest industry trends and forecast market movements.
Detailed analysis of current and future growth drivers, challenges, and investment opportunities.
Provides a complete overview of the wig and hair extensions market's market segmentation and regional outlook.
Provides a survey of the supplier landscape, competitors, and its advantages over competitors in and out of the region.
Hair extension market 2022 – Overview
Impact of COVID-19 pandemic on the global hair business market
As we all know, in recent times, due to the effects of the COVID-19 pandemic on the entire human life, the economic market, import-export, and hair extension market are no exception. Due to the pandemic, all countries are freezing flight routes, closing borders, and causing the distribution of goods to be stagnant.
Therefore, many hair extension suppliers find it difficult to secure their source in their business. If you take too much, you may leave a large amount of inventory in the warehouse, and if you take too little, you will not have enough to deliver to customers. So, the best solution here should be produced for each order.
As we all know, China has now risen to become the world's leading country in all fields, and when it comes to the hair extension market, it also has a rich source of goods; they always take the number of hair extensions.
Vietnam is a country that is considered to control the disease situation quite well and constantly provides hair extensions for a large number of clients in particular and the whole world demand in general with extremely guaranteed quantity and quality.
Development Scenario Of Hair Market 2022
Between 2020 and 2021, the market will be quite gloomy due to the stagnation of the global industry, but the world hair extension business market still has its hopes.
According to the analysis chart on Statista in 2020, we have seen an increasing trend of investment and business in hair extensions. Specifically, the registered market value in 2017 was around $5.96 billion and then gradually escalated year by year. They are then predicted to reach approximately $10 billion by 2023. We can see the amount doubling in the previous 8 years.
That is the story of the past and the future. In 2022, when the COVID epidemic is no longer as serious as it was in the past, countries are also gradually entering the stage of economic recovery. And the hair extension business will continue to accelerate, develop strength, and will achieve more imprints and prospects in the future.
Top highly sought-after products – hair business market of 2022
According to Market Watch's report on the hair extension business market, below are the hairstyles that are always top trending in the first period of 2022:
Natural straight hair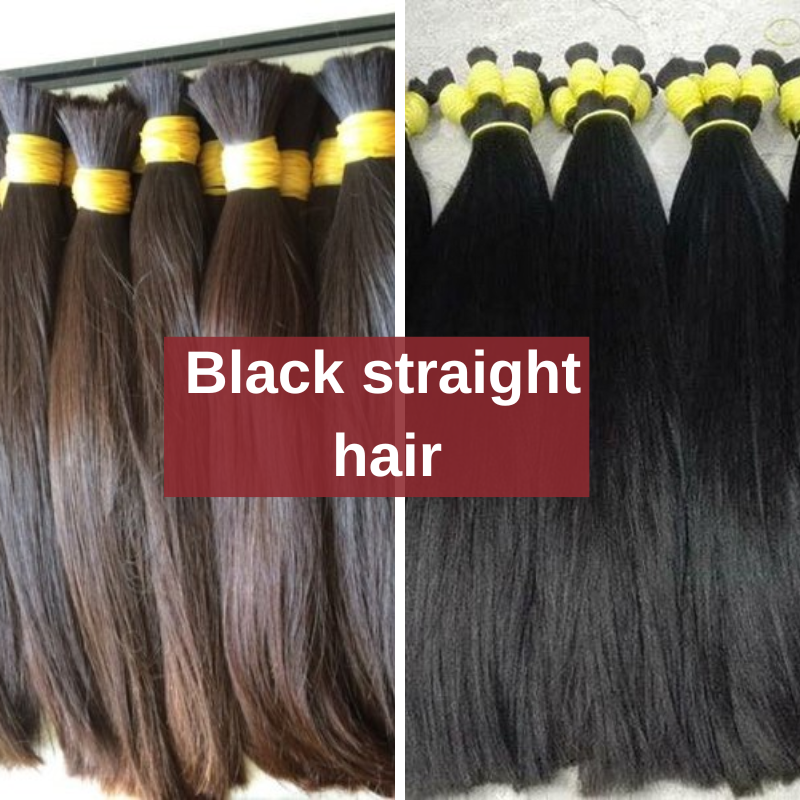 Bone Straight hair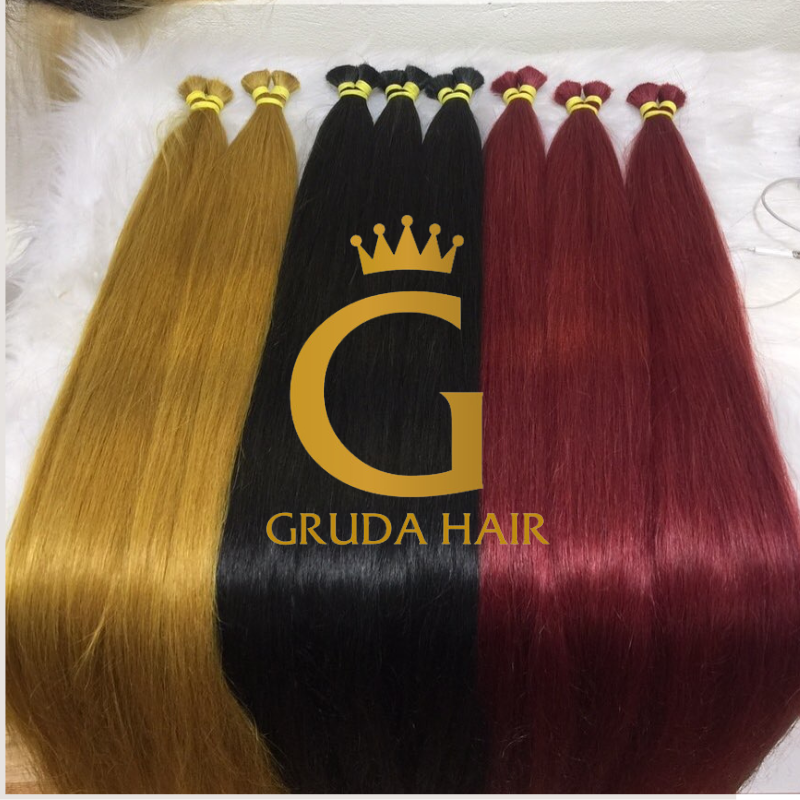 Tornado Curl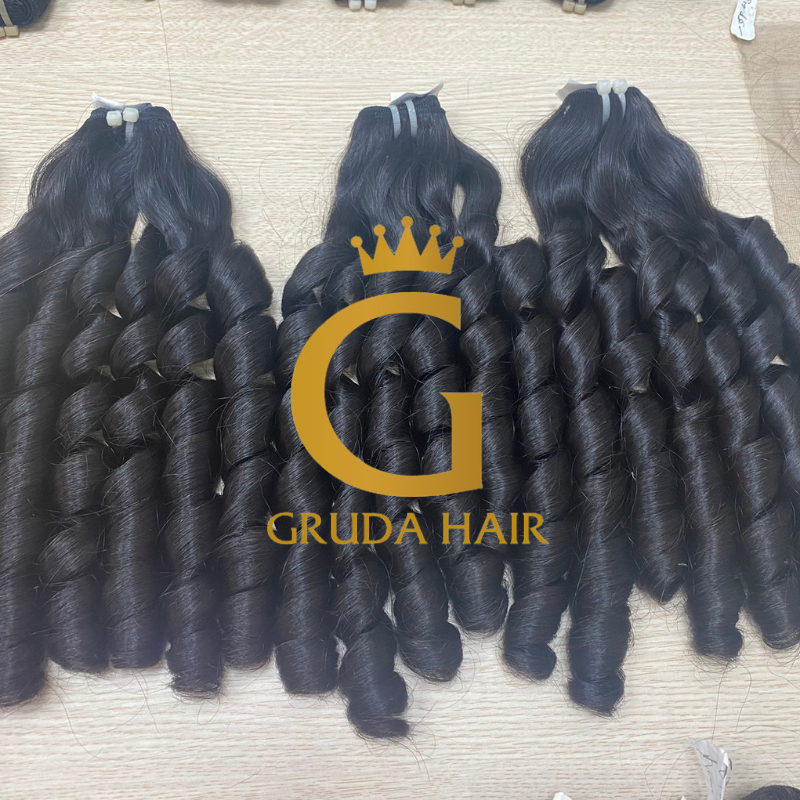 Deep wave ombre hair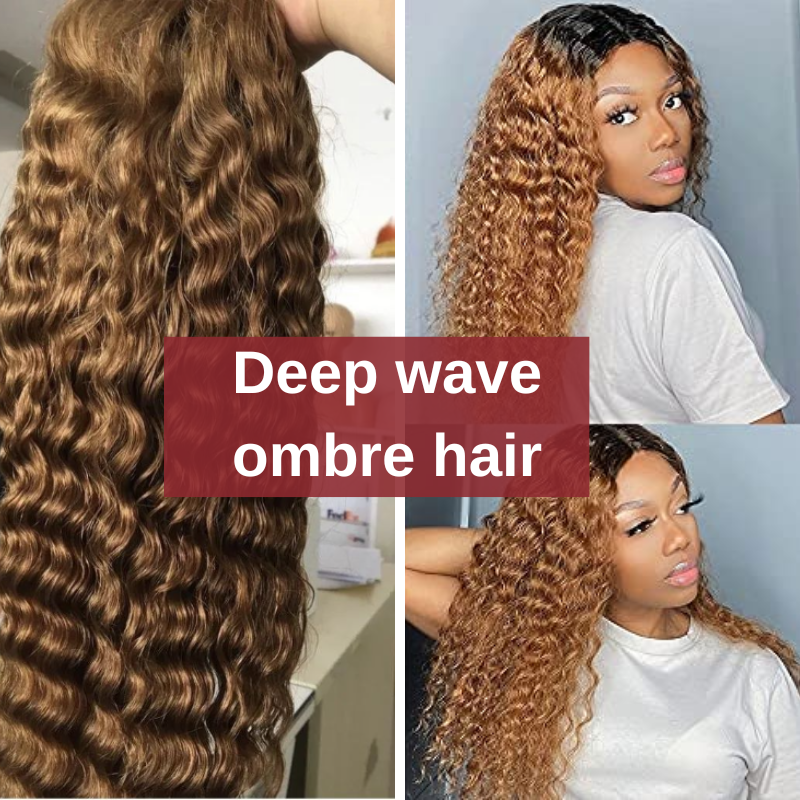 Piano hair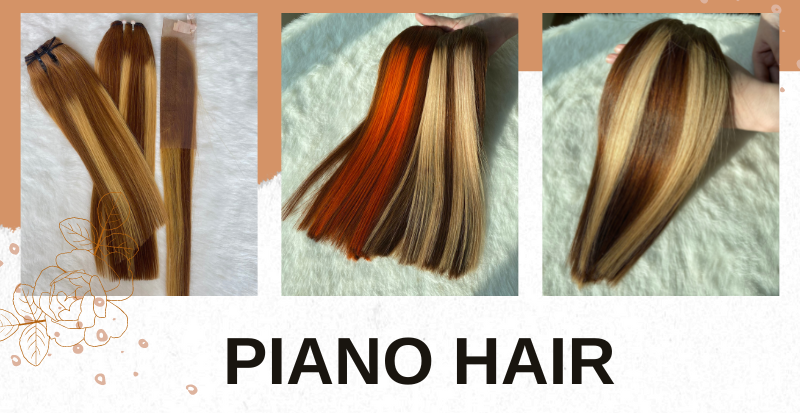 A Once In A Lifetime Chance For Your Hair Business. Why?
Here are the reasons that hair suppliers should quickly seize the opportunity and attack the market as soon as the opportunity arises:
Beauty needs are basic, essential, and long-term needs of every lady.
In addition, after the recent COVID-19 pandemic, people have more needs for beauty and self-care. They will go out to salons to beautify themselves. People always tend to change their outlook to bring a new fresh air to life with more joy and more hope, and this is also an excellent opportunity for you to sell wigs, hair extensions products. 
The cautious attitude and the carefulness in the manufacturing process of wigs and hair is extremely important. It can be said the hair extensions industry is competitive but also uncompetitive. Why is it uncompetitive? Because without job morals and high quality products, it becomes a less competitive market. Customers will not come back again if they used to have a bad experience. So, the main thing here is that you just need to focus on your hair business, prioritize customer experience and manufacture top notch products. Despite the demanding clients, you can have a chance to satisfy them. 
Finally, the government can introduce measures related to demand stimulus, tax reduction. This can facilitate hair business to develop and reach out to its country. Through which it can help promote international trade activities and regulate and develop the domestic economy. 
Key Factors For Your Hair Business Success
A reliable hair supplier: An indispensable component
The primary factor to contribute to the success of a hair business is the production of quality products and building trust with customers. There are 5 fairly simple tips to help determine how trustworthy your customers are. Here are the factors that you can refer to:
The first and most important factor is the selection of reputable, quality, long-standing manufacturers in the market. If you search and combine factories with their own websites, Instagram, Youtube, and Facebook to promote sales and facilitate inspection.
The return policy and the warranty is clear, and the time regulation is, too.
Besides, having more certifications from famous programs and competitions is also one the important and valuable resource.
Moreover, receiving and responding to customer reviews is also extremely important. You need to regularly update to know how customers will respond when receiving and using the product.
Finally, the most reliable thing is to have reliable factory, office, and machine quality photos to provide to customers.
Meticulous preparation in the hair business market
Here are 5 steps to help you achieve success in the wig and hair extension market and achieve the success you want:
Define your audience, market, and potential customer file capabilities that the company aims for.
Capturing and understanding customer needs.
Find out the advantages and disadvantages of competitors in the industry.
Outline the strategy for the business process in different stages. Especially for a startup company, this factor is significant.
Choose a reliable distributor or manufacturer and get started.
To have a successful business is extremely difficult, let alone the hair business extensions industry – an industry that is highly profitable in the current age. As a result, the most vital thing is you wholeheartedly focus on yourself, your hair business to provide the best hair extensions for customers.
Top 4 Biggest Hair Manufacturers Worldwide 2022
Gruda Hair – A leading hair extensions manufacturer and supplier in Vietnam
About Gruda Hair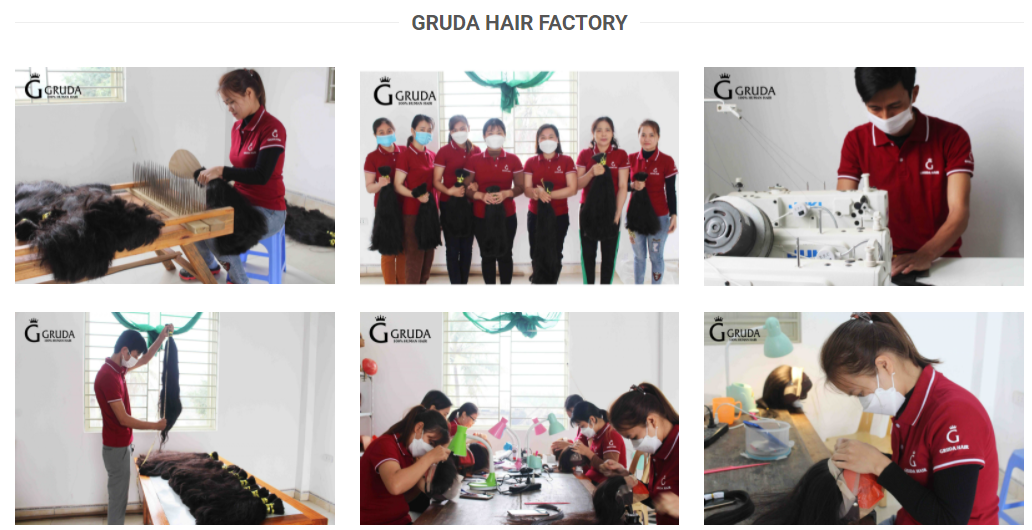 Gruda Hair is currently one of Vietnam's leading manufacturers, distributors, and suppliers of wigs and hair extensions. With over 14 years involved in the hair business, this brand has become a reliable partner, supplier, and friend of many customers and wholesale and retail hair agents. 
This brand was established to provide users with the most beautiful natural hair, enhancing their external beauty and confidence by changing their hairstyle. The market in which Gruda Hair operates is quite diverse, from Asian and European to African countries. Gruda Hair has cooperated with some of the big brands: Dream Hair World, Mscoco Hair, UCEE Collections, Waltino Hair,  ONYC Hair,… It also proves the potential and capacity of this brand.
Gruda Hair's products
When it comes to hair products, Gruda Hair provides a wide range of selections allowing customers to consider and pick up whatever hair extensions they desire to own.
Gruda Hair's products are wigs, bulk hair, hair extension wefts, clip-in hair extensions, tip-in hair extensions, tape-in hair extensions, closures, frontals, ponytails and so on.
Accompanying hair types, there are a large number of hairstyles you can unlimitedly choose: From straight hair, bone straight hair to curly hair, natural color hair to bleached or dyed hair. Some of the significant hairstyles are bone straight hair, pixie hair, afro kinky hair and body wavy hair, and full of color choices: piano, choco brown, blond, red wine and so on.
You can feel secure to import hair extensions in Gruda Hair – a reliable Vietnam hair extensions supplier. Hair source of this company is primarily from Vietnamese women, it is a Vietnam human hair extension. Hair is so durable, versatile, bouncy, silky, and naturally black. Consequently, over the years, this hair business is always a reliable and top-of-mind partner and distributor of countless clients on the global scale. Customers of Gruda Hair are from diverse continents and countries such as: the US, UK, Germany, Spain, Italy, Nigeria, Ghana, Namibia, Cameroon and other South African nations, Brazil, Argentina, Russia and so on…
Here are the images of hair products of Gruda Hair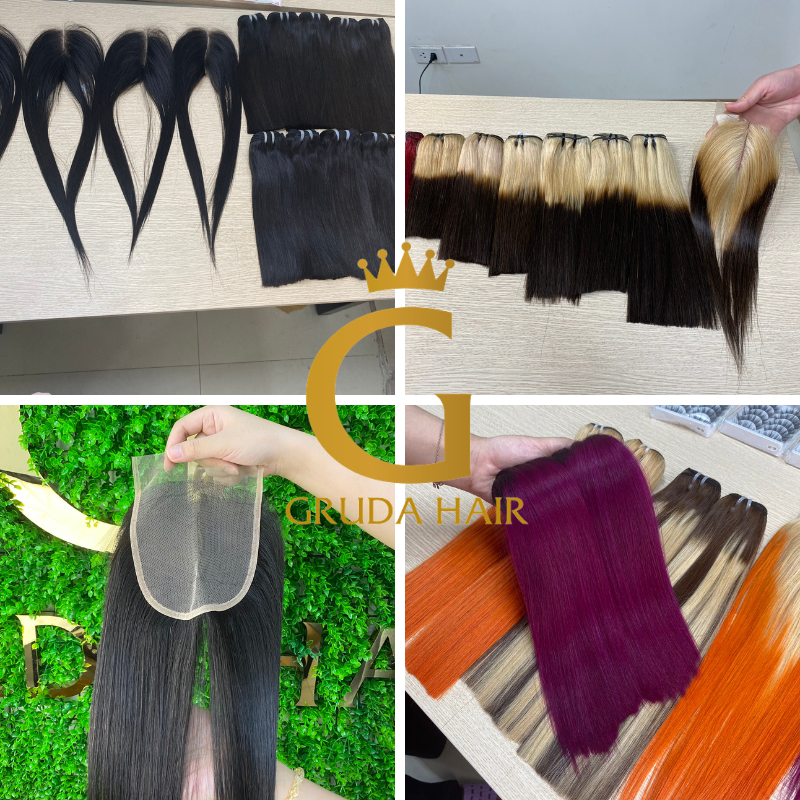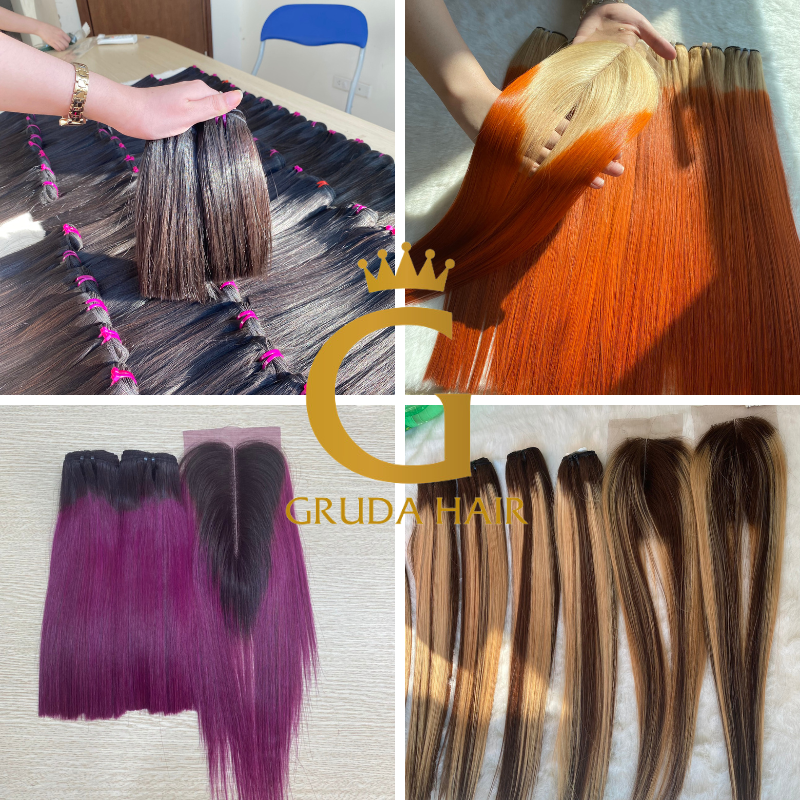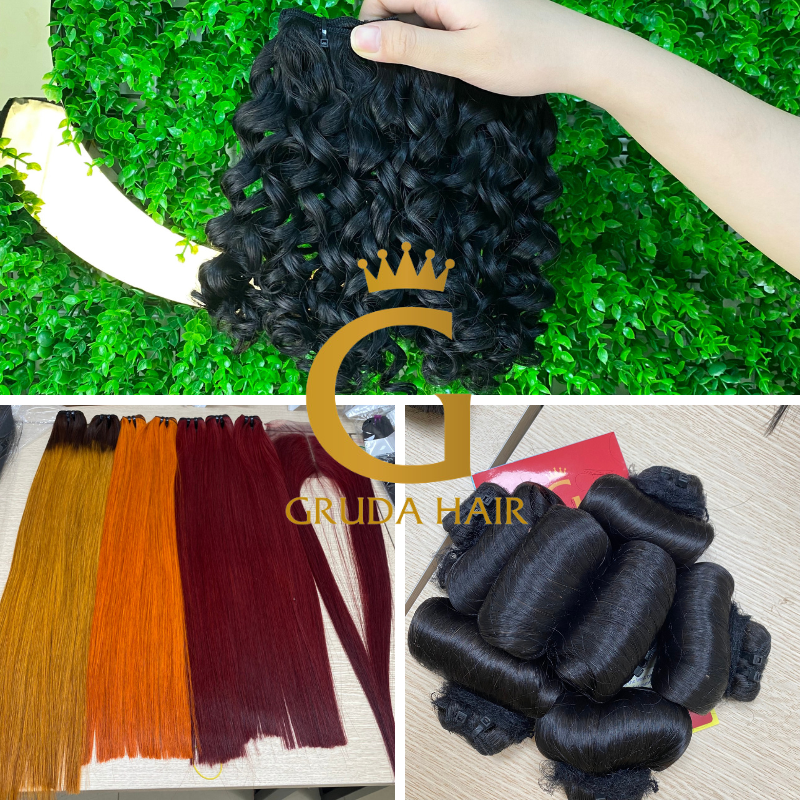 Remarkable features
Products are made from 100% natural hair of Vietnamese women.
Product durability is quite long, lasting from 3 to 5 years.
Diverse in hairstyles and colors and highly trendy.
Reasonable and affordable prices.
Quality customer service.
In addition, Gruda Hair does not leave an excessive amount of hair in stock. It is because it will reduce the quality of the product. This company will provide the hair products for you for each order. Do not worry a lot, it needs a little time, but it can keep hair extensions always in good condition. 
JP Hair – Brazil
JP Hair is known as one of the best suppliers of wigs and extensions in Brazil. They stand out for their large factories, expanding their markets to Europe, Russia, and neighboring regions. Most of the products at JP Hair are from 100% natural human hair and last for up to 5 years. 
The outstanding advantage of JP Hair is its good product quality, being a long-standing, trustworthy hair manufacturer. However, you will have to wait a bit longer during the purchase process. Because the delivery time will be from 10 to 15 days, depending on the region. 
ChangjingHair – China
ChangjingHair is currently a new hair extension and wig business but has quickly established its position in the market. In particular, ChangjingHair always has a factory available with a large number of goods. Therefore, this firm can quickly distribute to wholesalers at any time.
ChangjingHair has a reasonable and affordable product price. Because most of its products are from synthetic fibers instead of natural human hair. 
Pros and cons when buying at ChangjingHair:
Pros: reasonable prices, many designs, and always available sources.
Cons: As the hair is made of synthetic materials, it quickly leads to tangles and breakage. And the longest life span is only about 9-12 months.
Conclusion
Above is the information about the hair business in the world that we want to share with you. Hopefully, the above information has helped you update the hair business market and give yourself appropriate strategies to promote business and develop the domestic economy.
It is primary for startups that always need to devise innovative strategies to catch up with their seniors and stand firm in today's fierce and competitive market. 
Contact