For many women, they use hair extensions as an alternative to bring volume to their original hair, so it is necessary for you to find the perfect hair extension length before buying your own hair item.
Using hair extensions to change the look is the choice trend of many women today. As this inclination helps women to instantly change their appearance. With hair extensions, you can easily have the desired hairstyle without having to cut or change the hair color. 
However, you need to consider the length of your hair in accordance with your physique. Refer to the suggestions by following the shares to find the right one for you.
Different Hair
There are many ways to change the original length of your hair. You can use hairpins, specialized glue, and many other ways. Using hair extensions is a delicate choice (hair extensions are usually real hair and it can be Remy hair or virgin hair, depending on your choice). Below I will introduce you 2 kinds of human hair extensions: synthetic and natural hair extensions.
Synthetic hair extensions
They are made from plastic fibers and look exactly like real hair. Here are their pros and cons:
Pros
The price is much cheaper than real hair
If it is curly hair, the curl will last longer than real hair
Not easy to mix
Cons
Hair made from synthetic fibers is often quite tangled
The lifespan of hair is shorter than real hair, usually only lasts about 2-3 months
Real hair extensions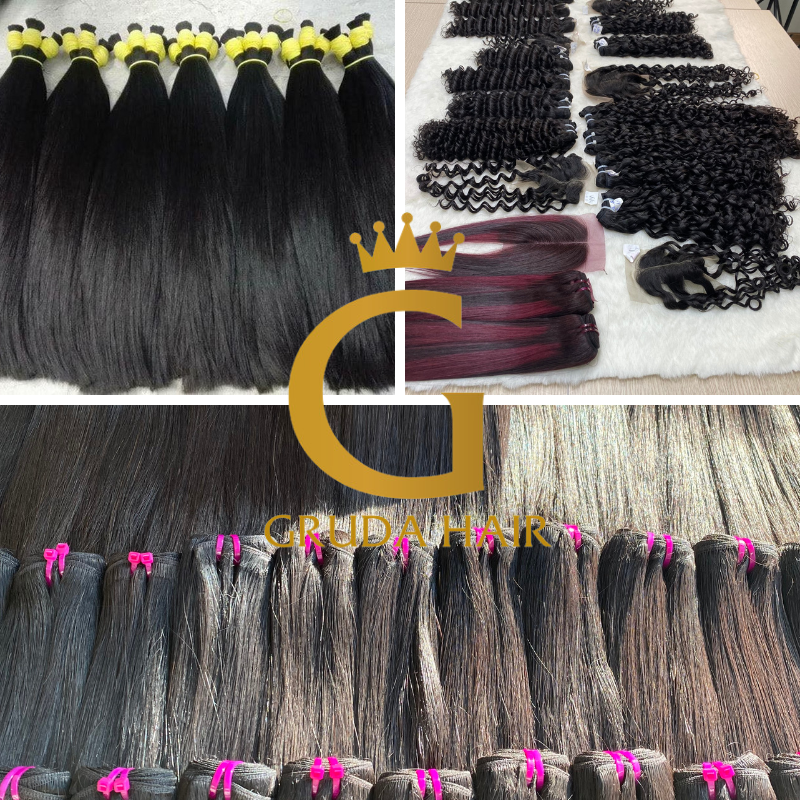 Natural or real hair extensions are hair collected from human hair. Here are their pros and cons:
Pros
Wide variety of sizes
Because real hair is easy to color and dye
Compared to synthetic hair, real hair is also easier to care for. (For example, you don't need regular maintenance like for synthetic hair extensions, but you just need to take care of your extensions like normal hair care)
Cons
The price is more expensive than synthetic hair
What Is The Right Length For Hair Extensions?
There is no universal standard for the length of hair extensions. Because everyone is different. To be more specific, measuring the length of the right hair extension needs to be based on many factors.
You try to imagine you are 170 tall and you want to keep your hair short. You won't be able to use the size (extension length) of a 160-tall person.
In general, when you decide to have hair extensions or decide to pay for hair extensions, don't let your money go to waste.
In general, the ideal length for hair extensions will fluctuate between 25-40cm. But actually, it is an objective measurement. You are the only person who knows what is most suitable for you. So, sometimes, you do not need to listen to others' advice about what hairstyle will be suitable for you. Just ask yourself and choose the one you like the most, that can make you confident when using.
According to hair industry experts, the length of the hair extension will need to be at least 4 cm longer than the real hair to fully cover your original hair. And here's what the pros share about why you should go this size.
No one will notice you've had hair extensions. As this site is not too short or too long and it fits almost any body shape. Next, you can use that hair to redesign more suitable hairstyles.
You can buy it at stores that sell this product. This appears to be the general size for hair extensions sold in specialty stores.
Above is a table of lengths for hair extensions. The length of the hair extensions can be from 30-32 inches. Some lengths can go up to 40 inches (this is a very rare length and it is not suitable for everyone).
Tips To Find The Right Extension Hair Length
As shared above, to find the right hair extension length for your hair to suit your body shape is very important. 
Beauty-loving girls always ask questions like "How to find the right hair extension for you" If you have a tall and slender body, you may have more options than others. I mean that you can be suitable with many hair lengths.
Don't worry too much that you don't know how to choose because here are a few tips that we want to share with you so that you can find the suitable hair extension length to enhance your beauty.
Step 1: Learn about your natural hair length
To get started with an extension, first of all you need to know how long your hair is. Yes, it's your natural hair, not the hair you're using. I mean your original hair.
That means you need to understand the principle of not only measuring the length of the hair piece but also using your natural hair. Because if your real hair is too short but you measure the clip. Then you will not get the desired result after the extension. And this must not be your goal right? You must have spent a good amount of money on hair extensions. Why not find a way to make this investment perfect.
The measurement is also quite simple. You need a measuring tape, which is the one people use to make those clothes. Now you need to stand in front of a large mirror. The best mirror in the closet and you need to make sure the mirror can reflect your full height to avoid mistakes.
You need to stand in front of the mirror, and keep your head straight. You take the ruler off. Point 0 of the curl ruler is the point that touches the hairline at the top of the head. Next, let the ruler fall freely.
The length of the hair is the touch point at the curler as it falls. You can observe that. Right? (But if your hair is too short, you can ask a relative to help you).
To find out which hairstyle suits you, you can use several hair apps in the store. Try it out.
Step 2: Determine your height
Choosing the right hairstyle proportionate to your height will help you become more beautiful after hair extensions. Height has a lot to do with the length and hairstyle. Therefore, finding the ideal length is extremely necessary.
Height under 1m55
For girls with modest height (under 1m55), you can choose a bob or pixie haircut as the "difficult face" most perfect.
Height over 1m55-1m62
For girls with an average height from 1m56-1m62, choosing a shoulder-length or mid-back hairstyle that is not too tight will be the answer. If you keep your hair too long, it will make you look shorter. The wire is also a very suitable hairstyle if you want to choose to "trick the eye" of the opposite person.
For a tall girl, experts say you can have any style you desire. However, shoulder-length and mid-back hair is still the first suggestion. If you extend your hair to a length that is too long, it will make others see you as tall.
Step 3: Your Hairstyle
It is also important to find the extension length that suits your hairstyle. For example, if you have a layered hairstyle, you might choose a longer bun as part of the hair will be cut during styling to make the entire hairstyle look shorter.
Step 4: Styling
Remember that wave extensions are measured when they are straight. For light wavy hair, target length is 2 inches (5cm) for thick waves target length is 4 inches (10cm).
Step 5: Type of extension
If you prefer hand-tied weft. Remember the seam will shrink the length of the hair a little, usually 2 inches. If it's duct tape, it will be shortened by about 1 inch.
Step 6: Get Professional
If you've taken the steps above but still feel unsure about the information you've gathered. Don't worry too much. You open google, and you look up the nearest and most reputable hair salon. Next, you ask the experts at the address you find. The important thing is that you need to find a reputable address.
FAQs
Is the length of hair extensions 20inch too long?
Extensions of the same length can look completely different to two people of different heights.
If you're below average, you may need to use a 12- to 16-inch extension cord.
Ideally, with your average height, you can consider the hair extensions to be around 20 to 24 inches. If you're taller than average, consider 24 to 30 inches.
How many 30-inch bundles are in a pack of extensions?
If using lengths shorter than 20 inches, we recommend using pack 3 for a complete installation. For hair between 22-30 inches, a pack of 4 is recommended. We recommend a pack of 5 with a length of 30 inches or more.
Can you reuse used hair extensions?
Your hair specialist can help determine how much you need and what texture works best, but the standard is to have two to three strands of hair. Depending on the stylist, packages cost between $200 and $800, not including hair. But once invested, you can reuse your wig for at least a year.
How many bundles does it take to start a hair salon business?
There should be at least four styles and lengths for each. Also, since your budget is $1,000, you'll want to get what you can afford.
Four packages are enough to give your customers the full picture without breaking the bank. Plus, 4 of each style will give you the variety you need to be successful.
How to trade hair extensions online?
You can sell extensions, classifieds sites including Craigslist, through e-commerce sites set up for your business, auction sites like eBay, marketplaces on social networking sites like Facebook, or advertising on other pages.
Can I donate a bunch of frizzy hair?
Make sure your hair is not chemically damaged (repeatedly dyed), severely damaged (split ends), or dirty and is at least 8-12 inches (20.3-30.5) in length cm) (depending on the location of the nest). Such hair is generally unacceptable.
Conclusion
Hope with the sharing: "How to find the perfect hair extension length for you". You have more experience information for yourself when planning to have hair extensions. If you need to suggest a reputable hair extension address or any information that needs more advice on hair extensions. Please leave a comment at the end of the article for advice.
Hopefully, we can help you a lot with this article. If you have any questions, feel free to contact us. We will do our best to respond to you immediately.
Thank you for reading!
Contact