These days, wig-wearing seems to be the popular culture. Women always pay attention and take care of their hair. However, currently, they are highly exposed to hair-related diseases. Therefore, human hair wig is increasingly gaining huge popularity, helping women enhance self-image and the level of self-confidence, and maintain their natural appearance. A growing number of people wear wigs due to fancy dress and hair-loss solution. For many women, a wig is one of the most precious assets, so in order to make it last longer, you have to know how to wash it appropriately.
I will show you some of the key information you need to know, keep scrolling down and reading.
Can you wash your wig at home?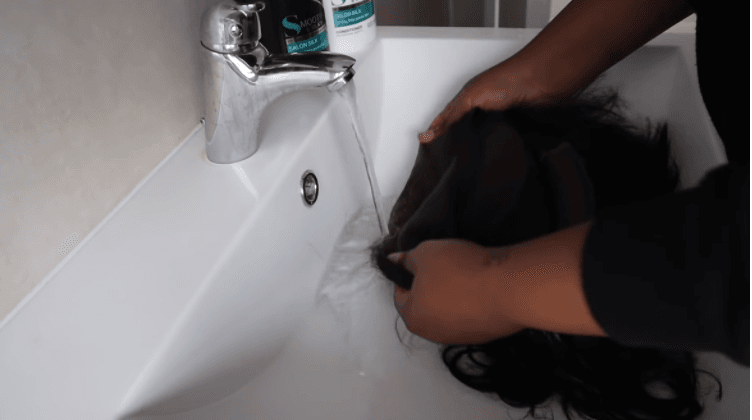 Actually, you can wash your wig at home on your own. We highly recommend that you should use wig shampoo and conditioner, which can remove unwanted substance from strands of hair gently and thoroughly. I think you should not use normal hair care products as usual because they can contain chemicals that can do damage to your human hair wig. You have to keep in mind that every time you wash your hair, its lifespan is shortened, let alone improper hair products applied.
How often should I wash?
For this question, it is hard to have a specific answer, whenever you feel it dry and dirty, give it a quick rinse. There are several factors you need to take into account: how often you wear a wig and weather in the place you are living. Besides, depending on some factors: your sweat; exposure to smoke or strong odors of any kind, the length of gaps may vary. However, for many women, they choose to wash every one to two weeks. If you always use styling products such as hair sprays or gels, it is necessary for you to shampoo and condition your wig more regularly, about once a week or every 10 days. There is a fact that in the situation you wear a wig cap below and then remove your wig before hitting the hay. You can shorten the number of times you need to wash it.
Items should be prepared before washing
In order to make your washing process easier and more effective, it is important for you to be careful and prepare some necessary items in advance. Here is a list of some items you can refer to.
A wig comb or a wide-tooth comb
Wig shampoo and conditioner
A clean towel
A wig stand or a mannequin head (optional)
Steps to wash your human hair wig properly
Take a close look at your wig to figure out when you should wash your hair wig. In this article, I will show you that your wig washing ritual can be done in 5 steps
Step 1: Pre-wash care
Before shampooing and conditioning your wig, we advise you to use a wig comb or a wide-tooth comb or even your fingers to detangle the hair before cleansing.
Step 2: Soak human hair wig under the water from cool to lukewarm
All of us always think that the most important step prior to hair washing is to saturate the wig with water. If your hair wig is long and voluminous, it is better for you to separate into each section to make sure that it is wet from root to tip. Using cool to lukewarm water to fully submerge it, because making strands wet helps strands better absorb the shampoo.
Step 3: Cleanse with shampoo
Place a small amount of shampoo into your hands and then gently stroke the hair from the top to bottom. It would help your wig remove sweat, dirt and other unwanted substances. One thing you have to always keep in mind is that you must not be heavy-handed when it comes to shampooing. Do not excessively rub and lather your hair wig, as if you do so, this could do damage to the strands.
The amount of shampoo should be reasonable enough not to damage the hair. For color-treated hair, it is appropriate for you to apply mild shampoos.
To remove the shampoo, run water from the top to bottom of the hair.
Step 4: Apply conditioner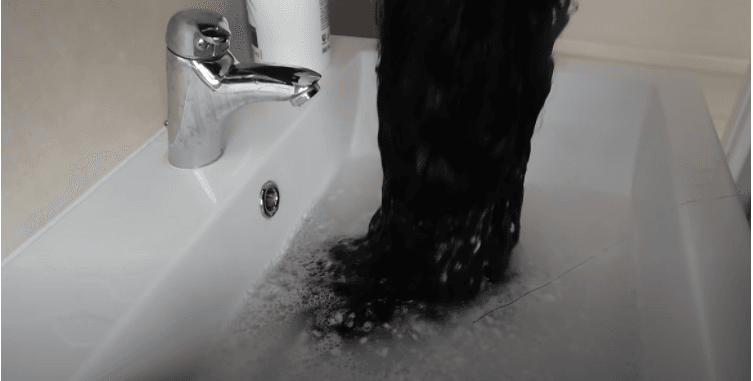 We can say that conditioner is key to keeping your wigs silky, and look great and last longer. Apply about a tablespoon of wig conditioner to your wig and run it through with your fingers. Your conditioner is unnecessary to be heavy, but you should make sure this amount can ease tangle. Then, rinse the wig gently under cool water until the water runs clear.
Step 5: Dry your human hair wig
After experiencing the washing and cleansing steps, now it is time for you to wait for it to dry. Wrap your wig in a soft towel and lightly squeeze the excess water or you can let it dry naturally. However, I advise you to limit the squeezing because it can harm your wig. You should pat out the excess water and avoid using a blow dryer until the lace wig is dry. This step can take a few hours but it is worth. The best way to dry more quickly and naturally is to place your hair wig on a mannequin head. Make sure that you let your wig dry completely, after that, you can freely style it as you normally do.
To sum up, in this article, I show you essential steps to wash your hair wig: pre-caring, soaking under water, shampooing, conditioning and drying. Before washing, you should keep the preparation of some tools in items.
Where can you buy the best quality human hair wig?
The best place for you to get the best hair wig as well as the best assistance and service is Gruda Hair. With more than 10 years of entering into the hair industry and the deep insight into customers' needs, we are confident to support you and offer you a wide range of selections. We act with a slogan to make an effort to bring success to your company and never sell bad products to ruin your hair business. In the current hair market, Gruda Hair gains the competitive advantage over other manufacturers because of product quality, price and customer service.
Our sales managers are always available to support and provide information about products for you. Feel free to contact us for more information: Ms. Sophia (Whatsapp: +84901365892).
Let's contact us. We are always here to provide the best service for you.
Contact: