There are many reasons why your hair gets tangled. Let's refer to this post to better understand. I am sure that you pull the comb out and see a bunch of hair strands caught in it on a daily basis. For all of us, it is a common sight and common thought is that we are so nervous about our hair state. For a large number of individuals, especially women, hair tangled makes them stressful. This is because hair is a precious asset of people. Moreover, the fact that hair gets tangled, to some extent, can be a sign of potential disease or bad care for self. 
In the modern day, people have to suffer from a large amount of stress and they are up to ears to care for themselves. Frequently long hours of working and inadequate sleep makes the state of hair loss and hair tangle more serious. In this post, today, we will find out the reasons why our hair gets tangled. From this, we are aware of our actions that make our hair unhealthy and avoid it to secure our natural hair.
WARNING! You should take notice of all of those things I am going to mention. Certainly, hair tangle is a common sight and experience among us. However, unfortunately, when this happens, some people tend to accept it as an everyday occurrence rather than viewing it as an issue to be solved. How do you tackle an issue if you don't recognize it as one?
Another thing I want to remind you is that when hair is damaged, it becomes easily tangled. Unfortunately, the process of detangling does much more damage. Constant detangling can sometimes be more detrimental than the tangling process. Therefore, when your hair gets tangled, you must not use any manual force to detangle it. Because it can make your hair vulnerable and fall out. So, you have to remember "When hair is dry and damaged, it tangles quickly. And does more damage as you try to untangle it!"
I am sure you have wondered, "Why does my hair get so tangled everyday? What causes my hair to suffer in this situation? What should I do to improve it and prevent my hair from tangling?"
To find your answers, let's scroll down and read this article.
Reasons Why Your Hair Gets Tangled
To begin with, you should understand the biological reasons that make people's hair get tangled so easily. Regarding theory, hair gets tangled when the cuticle is broken and open. Normally, your hair's cuticle, or outermost layer, should be smooth and closed. This is a good state. The cuticle should be flat and smooth in order for it to be healthy, look healthy, shine, and have a better overall body. They should be smooth and pointing down in the same direction as roof tiles! When your cuticle is smooth and healthy, your hair looks lively and bouncy.
When hair is dry and damaged, the cuticle raises and remains open. These exposed layers pull on each other, generating tangles and knots in your hair. The more damaged the cuticle, the greater the knots!
Here are the most common causes leading to the tangle of hair below, let's read carefully to know the reasons you are encountering.
Dehydration
Moreover, when your hair is in a dry state. It is a sign for you to better care for your hair. Hair tangling occurs when the tresses lack moisture and are overly dry. To get rid of the problem, you must wash and condition your hair more frequently, as well as oil it from time to time. Only use cool water.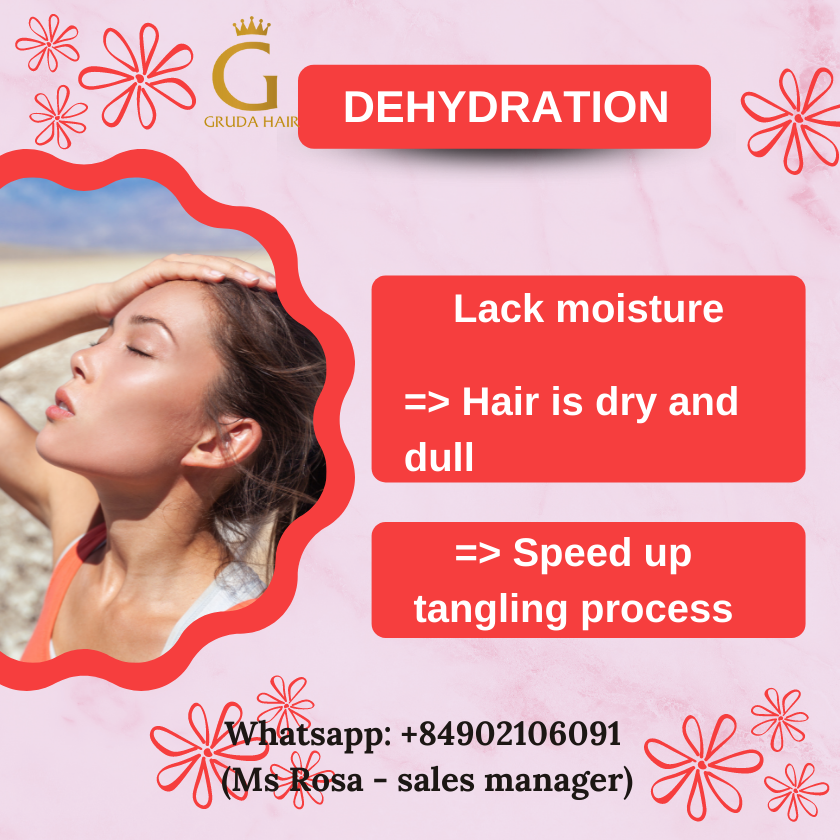 I would say that tangles are especially common when hair is dry. This is a well-known fact. Have you ever wondered "How does it work?". Well, when you don't moisturize and hydrate your hair from the inside out, it becomes dry and dull. This situation facilitates the process of tangling.
Excessive exposure to heat
Nowadays, women have acknowledged the detrimental impact of styling natural hair into a new one. This is because, in the long run, this new hairstyle will be damaging and old. And all the forms are not in the same form as initial. Applying chemical substances on hair does great harm not only to the quality of hair and your scalp.
As a result, the styling equipment is on the trend in the current years. Because hairstyling devices are so flexible. We can create whatever styles you want. Whenever you want to change your new look, just utilizing this hair equipment, you can deal with your problem.
Technically, the majority of styling tools use electric heat. Heat is applied on the hair shaft to make the necessary alterations. This works on the cuticle. Tremendous heat is applied to change hair's natural shape. However, you should remember that the health of hair is different among people. Therefore, you must not overexpose to heat. It will make your hair dry and cuticles are larger and not smooth.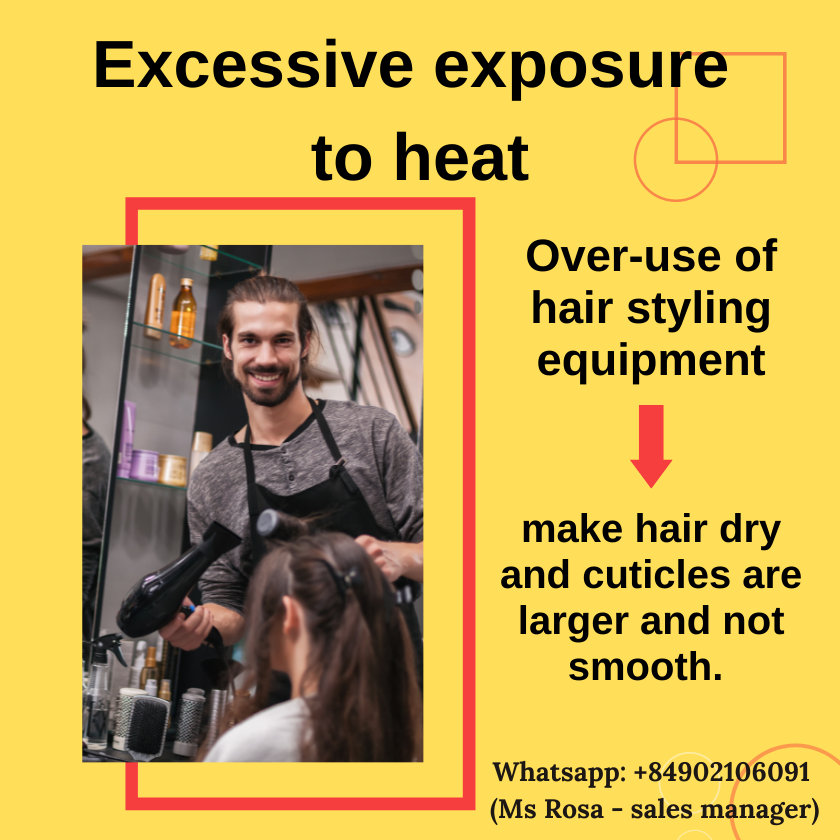 Remember that the lack of moisture means lack of slip. It can easily make the ends twist around each other. Hair dry does not slip right back and always twist around each other. Therefore, frequent trimming is so important and extremely necessary for those who regularly use styling equipment and those who are suffering from hair dehydration. Trimming hair in this situation means cutting off the dry ends.
Chemical treatment
It is undeniable that bleaching hair, coloring hair or styling hair has detrimental impacts on the quality of hair. Moreover, hair products or treatments that contain harsh chemical substances, you also should avoid at best. Because such treatments lead to the degradation of proteins and protein layers undermined in your hair. As a result, the strength and health of the hair strand is lost, resulting in a variety of hair-related issues such as dry and rough hair, split ends, a dry and itchy scalp, hair breakage, texture loss, and hair loss.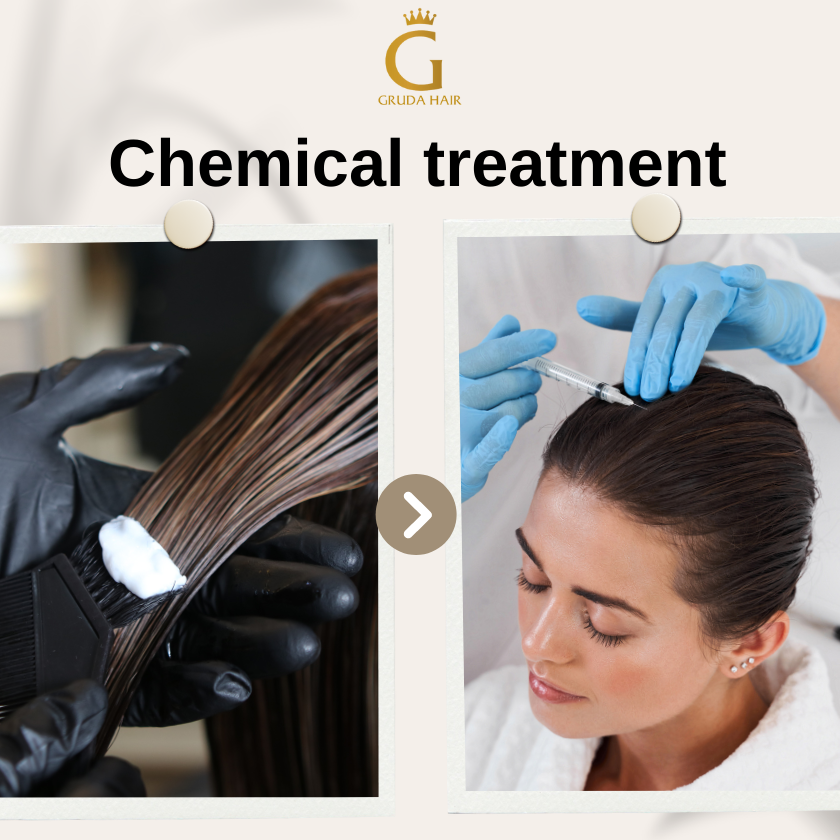 Consequently, when buying hair care products you should be concerned about their ingredients. To avoid the undesired effect of chemical treatment, it is necessary for you to own good conditioner products. As it helps smooth the rough edges and makes them less likely to tangle.
Improper brushing
Brushing in a proper way is one of the most popular reasons for making the hair tangle situation worse. Just running a brush over is not enough. You have to brush meticulously, especially for those who have thick hair.
Firstly, you should run through the layers of your hair. And secondly, you also have to comb through softly underneath. You should not comb by using a lot of force. Because if you do so, it can make your hair fall out and tangle easily.
To be sure the process runs smoothly as much as possible. It is vital that you had better part your hair into each part. Each part contains a moderate amount of hair. Aftering brushing completely one, you can unpin another section and continue to repeat this step.
Every good thing always comes with effort. So, let's spend your time taking care of your hair because it deserves for you to invest time.
I know that, in today's market, there is a wide range of brands, types of brush. Depending on your preference and availability, but I want to recommend to you that the paddle brush is the best selection for all hair types. Therefore, if you have a chance, it is rational for you to own one.
Inappropriate washing of hair
Another common reason leading to the hair tangle is proper washing of hair. As we know, washing hair is one of the best ways to take care of hair. However, unfortunately, in some situations, washing hair is a factor leading to hair-related problems. If you do not wash or use the right hair products, washing can exert negative influences on the quality of your camera. Washing incorrectly is prone to all kinds of hair and scalp.
Using the right shampoo and conditioner is essential. When buying your hair products, you must look through contained ingredients, especially the common drying ingredients. These substances would easily make your hair dry and frizzy. They can dry your hair out quickly and suck moisture from your hair.
When cleaning hair, it is not advisable for you to use the hot water. And when applying shampoo on your head, you should use a light force and slightly rub to avoid causing harm to hair.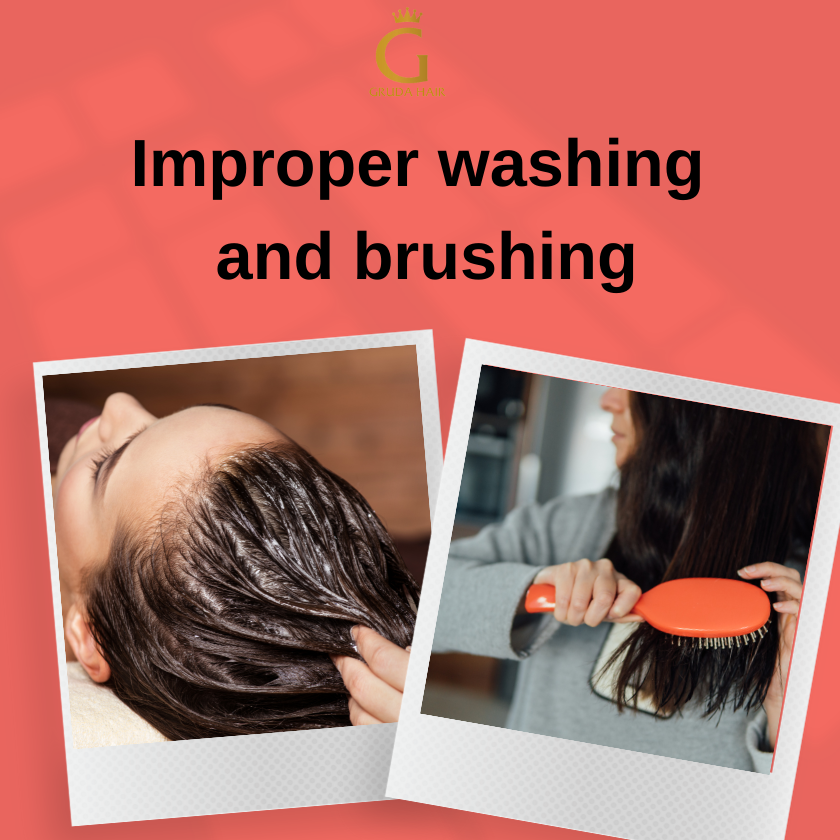 In terms of hair conditioners, selecting hair conditioners is so essential. Because those have an aim to keep our hair smooth and bouncy. Conditioning allows nourished ends to be more slippery and reduce the tangling. In addition, deep conditioning also makes a significant contribution to helping keep color-treated and thick hair well-nourished.
Exposure to harsh weather conditions
Many people do not believe that the weather factor is also a reason triggering the hair-related issues. Remember that we are living on the Earth and we always stick to and depend on climate conditions to survive. Therefore, based on different weather conditions, they help people to grow plants, organize economic activities and develop. Climate conditions also play a role in people' health. As a result, you should take weather into consideration when it comes to hair care.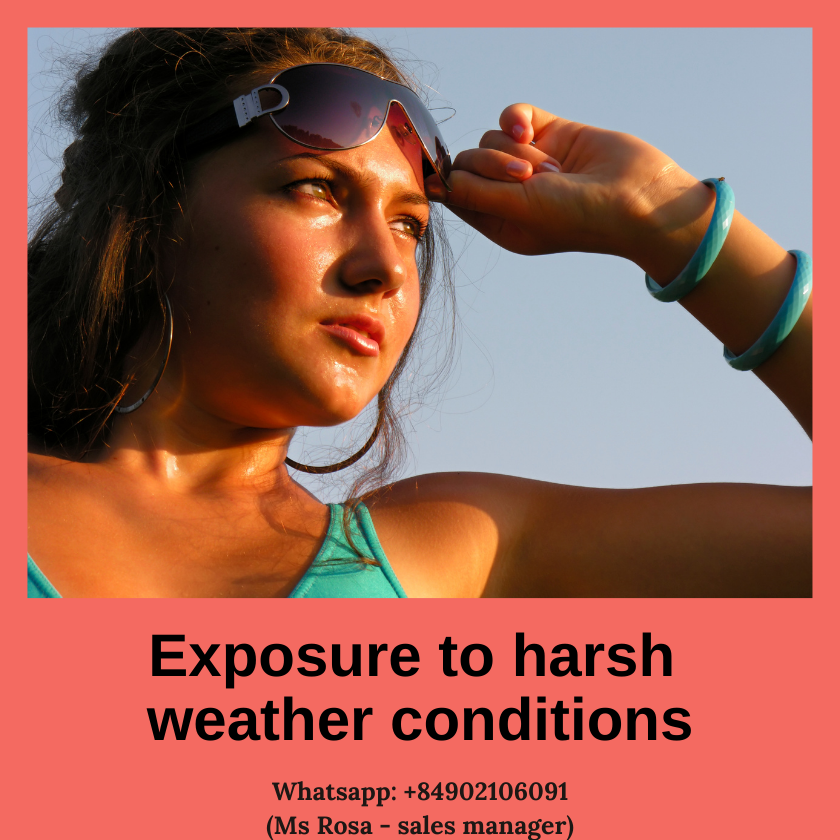 A large number of individuals, because of living conditions and workplace, are prone to exposure to harsh weather conditions (extremely dry or cold). This leads to a struggle with dry, dull and lifeless hair. When the hair is not protected and is directly under the extreme sunlight, great humidity. Obviously, it hugely damages the outermost layer, the cuticle. And if your cuticle is broken, definitely, your hair will become knotted and prone to failing.
Towel-drying harshly
When you use a towel as a way to dry your hair, let's imagine that the fibers on towels have the same function as your fingers. Scrubbing also means that you are tangling your natural hair with a towel. This will damage your cuticles and leave them open to damage. Therefore, to minimize damage to hair, it is vital for you to blot hair gently. It is better if you can buy a micro-fiber towel. Or manually, you squeeze the water out and pat drying would be the best practice to adopt.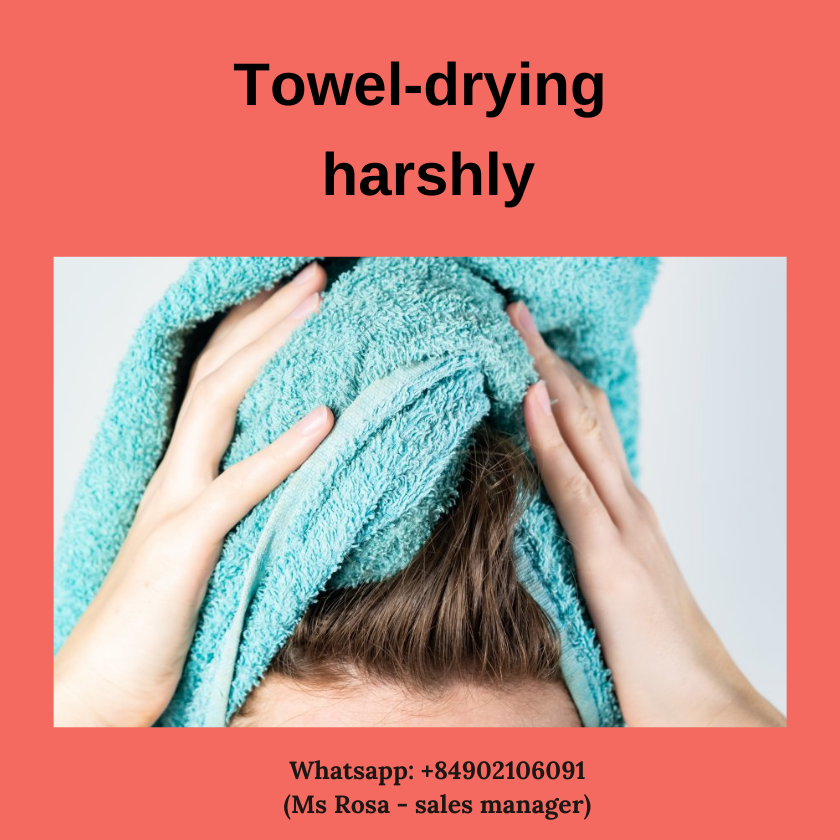 When the hair is wet, it is the time when hair is so feeble. Do not rub the hair and scalp vigorously. Be gentle as much as possible.
How To Care For Your Hair To Avoid Tangling
The common causes resulting in the tangling process of hair is just mentioned above. It is time for me to show you the ways as well as advice to prevent your hair from tangling.
I believe when reading this post, all of you have been nervous about your hair state, hair loss and hair-related issues like that. Alright, you are struggling with constant tangling of hair, but you do not know why and how to combat this current situation. Now, when you have deeply understood the root causes, you should take immediate action to avoid this kind of concern in the future. These tips below will help you tackle this unpleasant experience.
Use detangling conditioner
As I said before, washing or brushing incorrectly is detrimental to your hair. I also highlighted the importance of using the right hair products such as oil, shampoo and conditioner. The first tip to prevent tangling is to use the right detangling conditioner.
As we know, when hair is wet, it is the time when hair is, of course, vulnerable, and more likely to get tangled. At that time, you may be concerned about the knots and tangles. When being humid, it is difficult to detangle. And if you dry out your hair in this state, after finishing, I will look like a straw. Apply a moisturizing/ conditioning agent like coconut oil or a detangling conditioner is a must-do
Use wide-toothed comb
The paddle brush is one of the best and the most prevalent selections among people considering combs used for hair care. Apart from that, I also want to recommend that you own a wide-toothed comb. The importance of it for hair care is unquestionable. Can say that it is the gentlest tool for your hair shaft.
Especially, when you are undergoing any hair-based problems, let's use a wide-toothed comb instead of using others.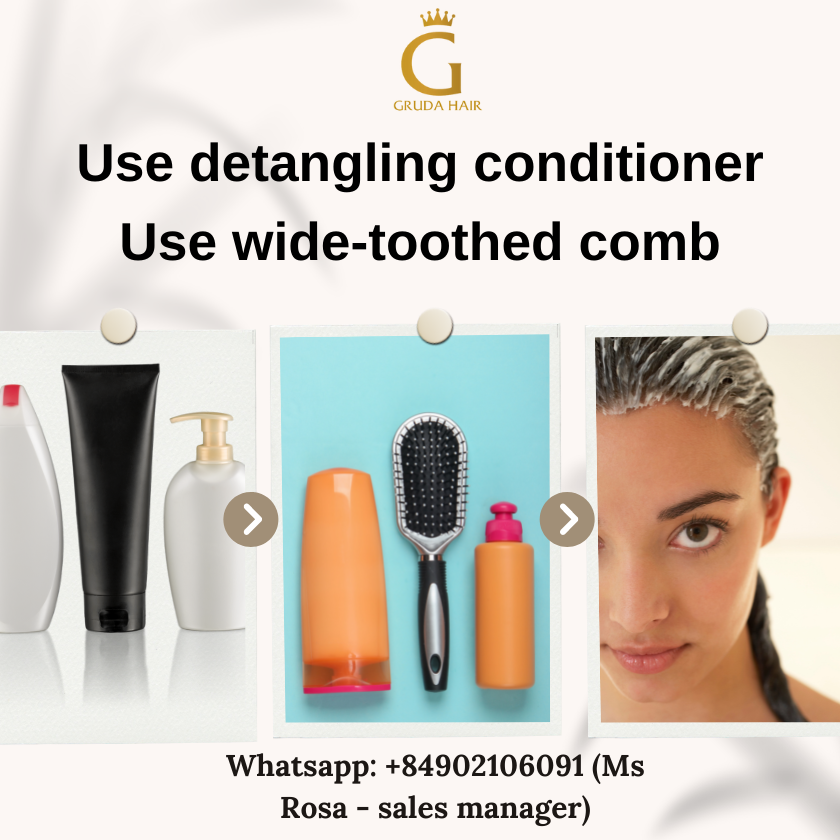 Protect your hair when going outside
Covering your natural hair with a hat when you go out in the sun and to go to the polluted environment. It is just a simple method to protect but; but many people always forget and ignore it. They think that weather conditions do not matter.
Moreover, when you go swimming, it is better to cover your hair. In the rainy weather, you get wet, don't let it stay wet for too long… To sum up, in our life, there are a wide range of unpleasant circumstances that necessitate protecting hair!
Above are some recommendations, if you do this, your cuticles will be safe. The safer your hair is, the fewer the knots appear.
Sleep smart
Tangles usually happen overnight, so braiding tangle-prone hair while sleeping will be beneficial. However, you should be concerned that you do not tie them strictly. Because, if you doso, it will cause stress to your hair.
It is better to take notice of the pillowcase you use when hitting the hay. For example, consider using a silk pillowcase as well. The fabric's natural smooth feel allows hair to slide across it while you toss and turn at night without generating tangles that you'll have to brush out when you get up in the morning.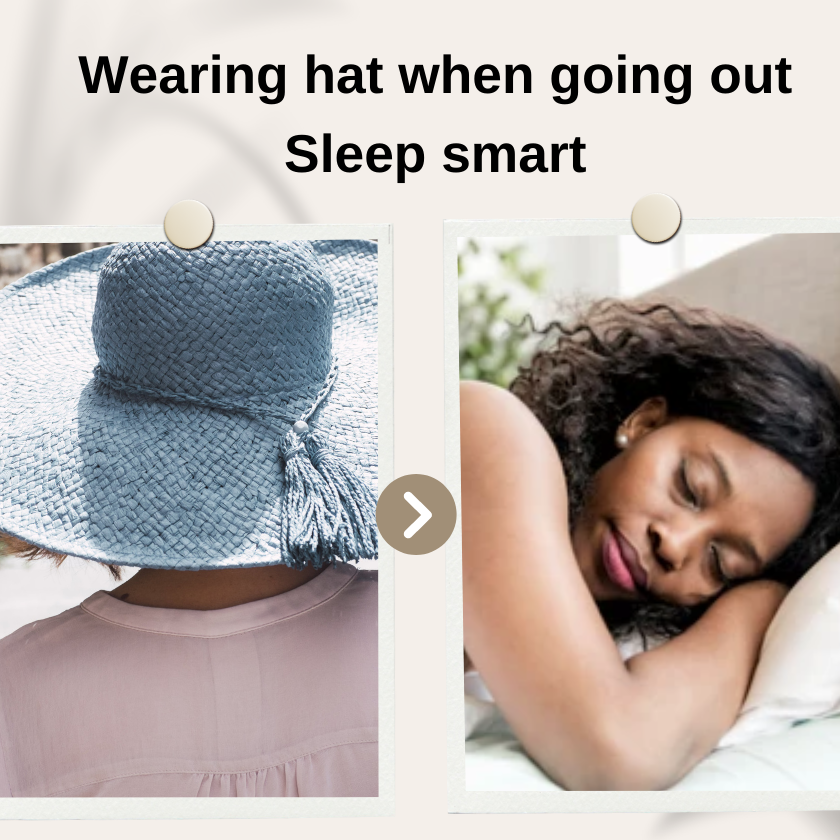 Regularly trimming
This tip is not so popular among people and it seems that they do not realize the huge significance of this method for preventing hair from knotting and tangling. Especially for those who have thick and long hair, they must trim their hair. Because, dry ends tangle easier and can lead to large knots.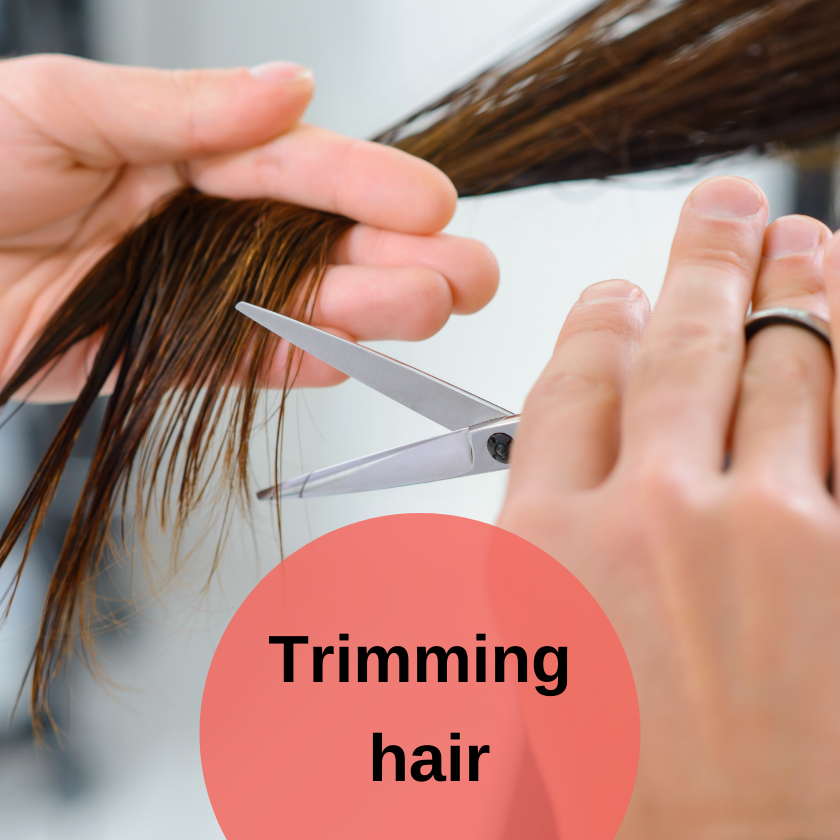 A quarter-to-half-inch trim every two months will make a significant impact without sacrificing length.
Conclusion
In this post, I show you the fundamental reasons leading to the tangling process of hair. I hope that after finishing reading that, you can acknowledge whether you have those habits or not to avoid tangling your hair. Another valuable information is tips you must follow to always keep your hair in a good condition.
These days, there are a large number of people suffering from hair-related diseases and problems. It is so sad, because all of us are regarding hair as a precious asset, particularly women. In order to hide bad hair, people, nowadays, are increasingly choosing natural hair extensions or wigs as an alternative way. At Gruda Hair, we offer a wide range of hair extensions made from 100% human hair, regarding color, price, types and hairstyles.
If you have interest, do not hesitate to contact us. Our sales staff is always available 24/7. Don't hesitate to contact us or our sales manager (Ms Rosa: +84902106091). To get more information about Vietnamese hair products as well as hair suppliers, let's contact Gruda Hair to have the best consultation.
If you have any further questions, please contact us directly via this phone number (Our sales manager: Ms Rosa: +84902106091) to get support instantly. We will try to give the most comprehensive and complete answers in order that you can untangle your problems.
Team sales staff of Gruda Hair is available 24/7 to support and respond to customers Contact