Are you wondering if Vietnamese hair is a great choice for your hair business? Vietnamese hair extensions are among the best and most popular in the global hair business market. However, they have both the good and bad features that hair vendors should consider carefully before doing business. With this article, you will get an in-depth view of Vietnamese hair and find out whether or not it is a suitable investment.
Origins
Vietnamese hair origin goes way back to the beautiful mountainous areas of Vietnam. It has become a tradition and a habit for women from 18 to 35 to donate their strong and healthy hair. That's why when compared to other countries, Vietnamese hair has relatively superior qualities.
These ladies have a tradition to keep their hair within knee-length. This has allowed Vietnamese hair extensions to satisfy all length standards.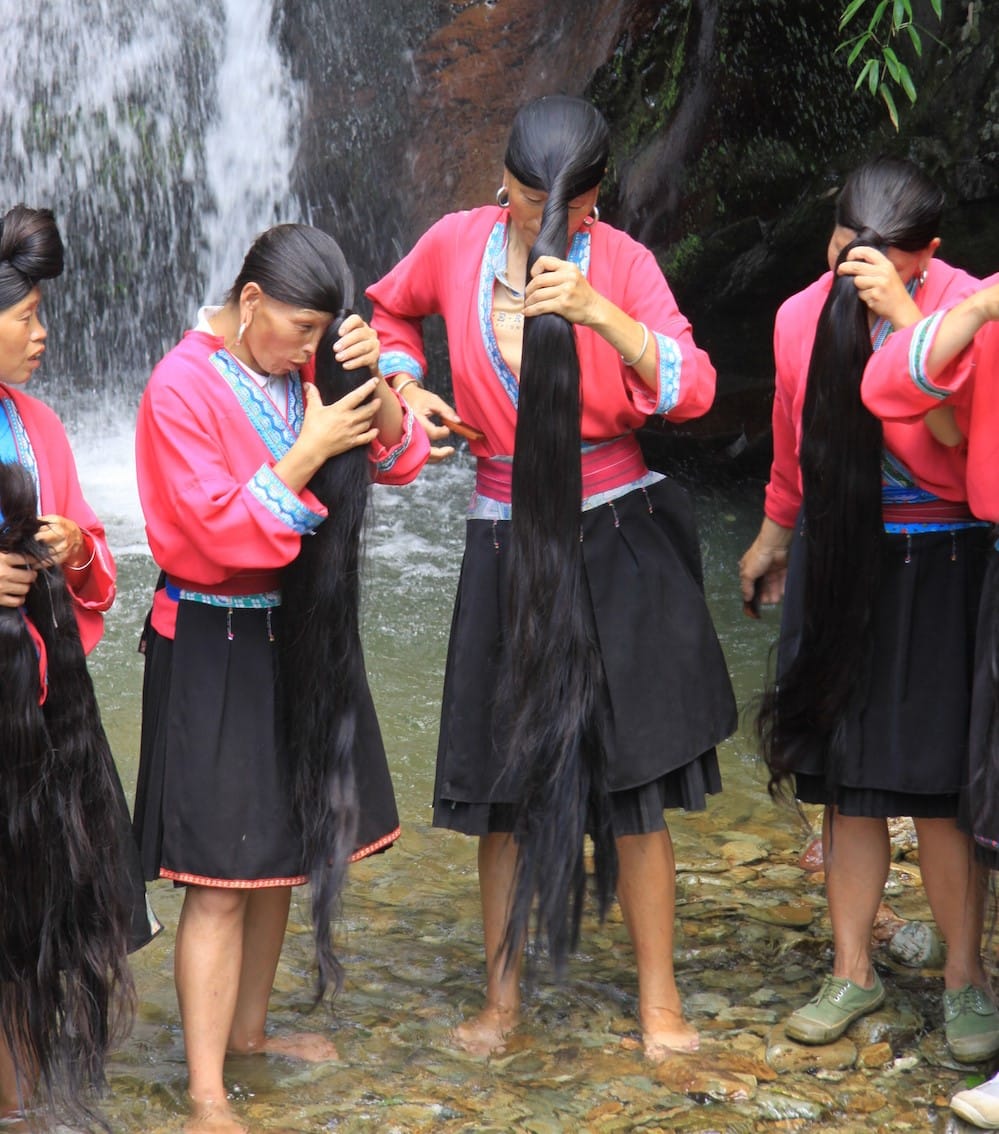 Furthermore, they treat hair with natural leaves such as locusts and aloe, resulting in hair that is incredibly strong and shiny.
The all-year-round breezy and gloomy weather also protect their hair from the sun's UV rays.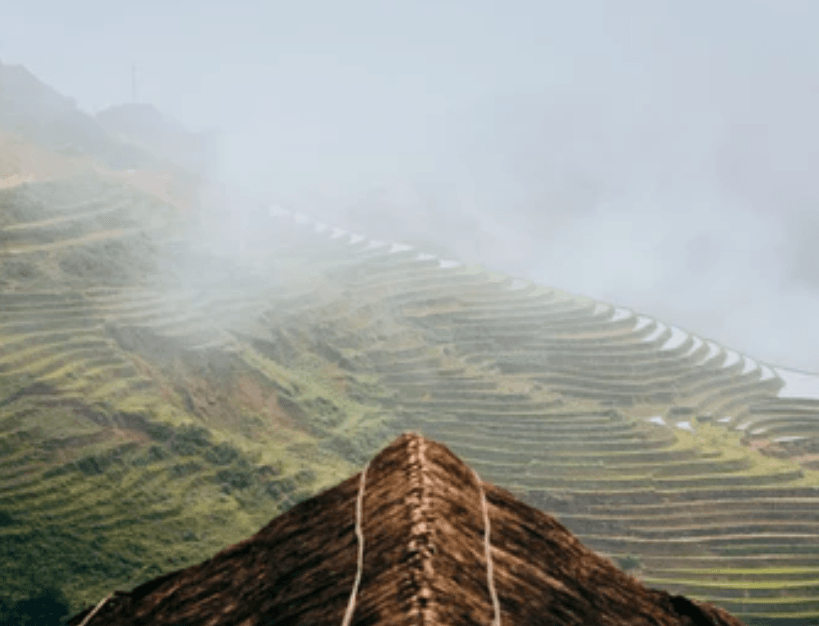 What makes Vietnamese hair outstanding

We have gathered feedbacks from hair extensions fan and customers to bring out the most honest and objective conclusion : Vietnamese hair has outstanding features that few countries in the world have.
Vietnamese hair is popular in Africa, particularly in Nigeria, due to its natural black color and smooth, powerful appearance. Despite rumors about having dissappoiting quality, this country's remy hair products far exceeds quality test criterias. (not tangle, smooth,etc)
Vietnamese hair is naturally lovely in terms of texture. The hair is thick and strong, yet not coarse or scratchy in the least. The hair, on the other hand, is incredibly silky and straight.
Vietnamese hair, whether curly or bleached, is easy to style because it is naturally straight and smooth. The hair is still cuticle, and the quality of the bleach color is really good. Meanwhile, Indian natural hair is thin, rough, and naturally curly. Thus, you don't see colored and bleached indian hair often.
Thanks to lack of chemical treatment, Vietnamese hair is extremely strong and durable. According to Vietnam remy hair reviews, hair can last up to 1-2 years with daily uses, while virgin hair can last from 10 to 15 years. Chinese hair isn't in the same leauge with Vietnamese hair in terms of quality. The chemical treatment procedure has given Chinese hair a reputation for terrible quality.
Comparisons
To give you the most honest view on Vietnamese hair, we have done our research comparing Vietnamese hair with ones from other countries. Set of criterias consists of 5 elements : quality, price, sources, stock availability and variety.
For the full comparison analysis, click here
Pros
To start, we can guarantee that Vietnamese hair extensions quality is top-notch. This is because our hair donors are from the northern mountainous area of Vietnam. Mild temps, moderate humidity together with a diet that varies in vitamins, protein and fat makes these lucky people have, according to statistics from the Vietnamese Ministry of Health, the most healthy hair in the country.
The best part is the hair donors, themselves, barely have any source of income. Most of their daily work is growing plants and raising cattles as this is the main source of nutrition. Having people grant them money for the hair, hair donors are given an additional amount of income, which they are very much grateful for. So when buying hair from Vietnam, you will not only give chances to young girls in Africa to become a more confident version of themselves but also Vietnamese girls the meals she has always wanted. Not to mention all the sweet bucks you'll be making .
Our Nigerian friends once told us customers love Vietnamese hair for the superior quality at such a reasonable price. This is true. When putting on the map, you can clearly see the price for Vietnamese hair is beyond cheap. It's the bang for your buck. Although the price is a little higher compared to China and India, Vietnamese hair quality definitely outmatched these 2. Equivalently, there's such a huge difference in costs when comparing Vietnamese and European while the quality of these 2 does not differ much (the latter is a little bit better).
However, not all vendors from Vietnam are ethical and transparent with their business. We suggest you research your supplier carefully before purchasing a big order. Stick around for our top trusted hair vendors later in the blog.
Cons
Now, moving on to the downsides of Vietnamese hair.
First, we've got to mention the waiting time. In Vietnam, the process of getting hair to your hand starts with you placing an order. Then, the factory will start making the products for you (unlike in China or India, where hair wefts are mass-produced then stocked). This is to keep the hair as fresh as possible, which leads to an increase in product lifespan.
It usually takes up to 4 days since you placed an order to finish the product.
Second, the variety of the product range isn't a strength of hair from Vietnam when compared to those from China. Vietnamese hair vendors have hair extensions and raw hair of all colors and textures, tailored products to the liking of customers, especially African clients. However, clip-in hair extensions and full wigs in Vietnam are not manufactured as much, hence the price is higher and the source is more scarce. The majority of available, easily-accessed products in the market are weft hair and raw hair.
To rate Vietnamese hair, we give it a score of:
Quality: 9.5/10
Price: 9/10
Sources: 10/10
Stock Availability: 8/10
Variety: 8/10
What people say about Vietnamese hair extensions
Thanks to superior quality at such a reasonable price, Vietnamese hair extensions are loved by most of the customers. From Europe to Africa, or even America, the ones who bought hair from Vietnam will most likely be satisfied with the products. This is understandable, because hair from Vietnam, compared to ones from other countries, is the most well-rounded. It might not be the cheapest or the one with the best quality, but in general, it's the most bang for your buck.
Vietnamese vs European hair
A bundle of Caucasian hair's lifespan might be longer but it also comes at a hefty price tag, which might not be affordable for many businesses. For example, a bundle of Vietnamese Remy hair starts from 9.3 US$ a bundle while European hair's cheapest bundle is around 45 US$. Conventionally, higher price also comes with better quality. However, this is not exactly the case here. My dear reader, let me tell you a story about SCARCITY. I want you to remember this word carefully.
Okay, now I'm going to explain myself. Scarcity business context means the rarer the product, the higher the price will be, regardless of the value of the product itself. This is why people are investing in NFTs like crazy.
Back to the story of hair, Caucasian hair's ridiculous high price stems from lack of hair donors. Since Europe is a developed continent, minimum wage and social support ensure citizens a comfortable life. That's why very few people choose to donate their hair. As a result, the price is because of the shortage of supply.
That's why in challenging market like Africa or Asia, where people spend their money wisely and only buy products worthy of the price, European hair extensions don't do well.
Vietnamese vs Chinese & Indian hair
Interestingly, Chinese and Indian hair, although being the cheapest, is gradually losing customers.
India, thanks to having a generous supply of hair from religious practice, has the low price advantage. However, most hair exporters in the country don't invest much capital into facilities. Thus, products are being crafted manually by blue-collar workers. To cut down more on costs, managers let their employees work in a rundown work environment, where basic human rights are failed.
Chinese manufacturers, in order to have products at such prices, have been working like crazy to cut down on production costs. They are literally doing everything to achieve this, including violating customers rights and benefits. Many cases have been reported where Chinese HUMAN hair extensions are mixed with artificial synthetic fibers while being sold at normal price. Customers buying from sellers like this not only get ripped off but might also have syndromes like itchiness in the scalp for the low-quality hair.
What type to choose?
The following classifications might help you identify the best hair type for your business. We accumulated a large number of hair extensions and raw Vietnamese hair evaluations from customers and hair specialists to reach the following conclusions.
Vietnamese hair review: classified by the origins of hair
In terms of origin, Vietnamese hair has only 2 types: Vietnamese virgin hair and Vietnamese Remy hair, not non-remy hair because Vietnamese hair factories only sell high-quality hair.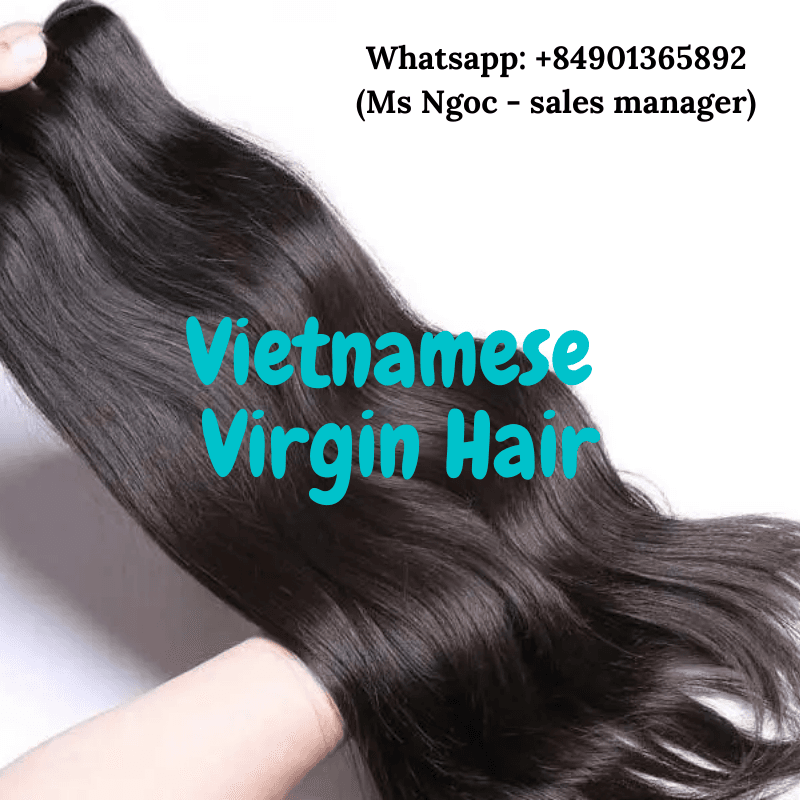 Vietnamese Virgin Hair is collected from only one Vietnamese healthy woman. This product is very suitable for bleaching and dyeing bright colors. From our data this to be the most suitable hair type for sale in Europe, a market with high demand for bleaching and dyeing.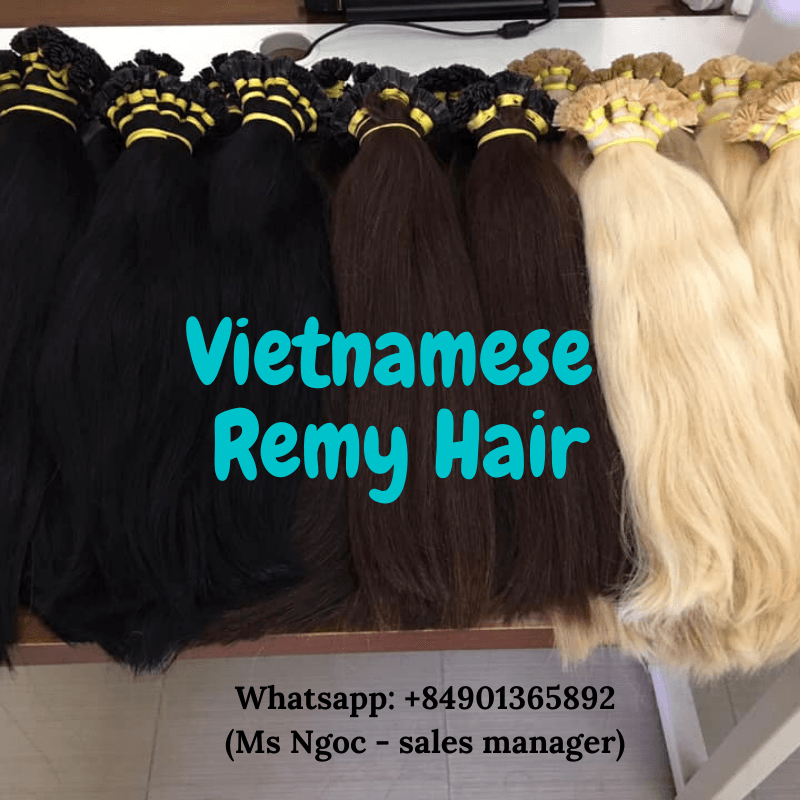 Vietnamese Remy Hair is collected from 2 or 3 Vietnamese healthy women who have similar features so it can still be bleached and dyed. Reasonably priced, they are one of the favourite in Africa market. Customer feedback shows that the quality is very good despite stereotypes about the unsatisfied quality.
Vietnamese hair review: classified by the processing method
Vietnamese hair can be classified into two sorts based on the processing methods: raw hair and hair extensions. Both of them most of the time receive good feedbacks from customers.
Raw vietnamese hair
Vietnamese Raw Hair is made up of 100 percent Vietnamese human hair that has never been processed in any way, including straightening, dyeing, or bleaching.
After being cutted, the hair is separated into 100-gram bundles and exported. Raw Vietnamese hair is ideal for large salons in Europe, particularly in Eastern Europe and South America. Furthermore, demand in Africa is expanding as a result of rising living standards.
Vietnamese hair extensions
Vietnamese hair extensions are human hair from Vietnam that has been treated for a specific purpose.Vietnamese hair extensions come in a variety of styles:
An ideal choice for Africans who have short hair. It can either be straight or wavy. Weft hair from Vietnam is sold from 10$ per bundle.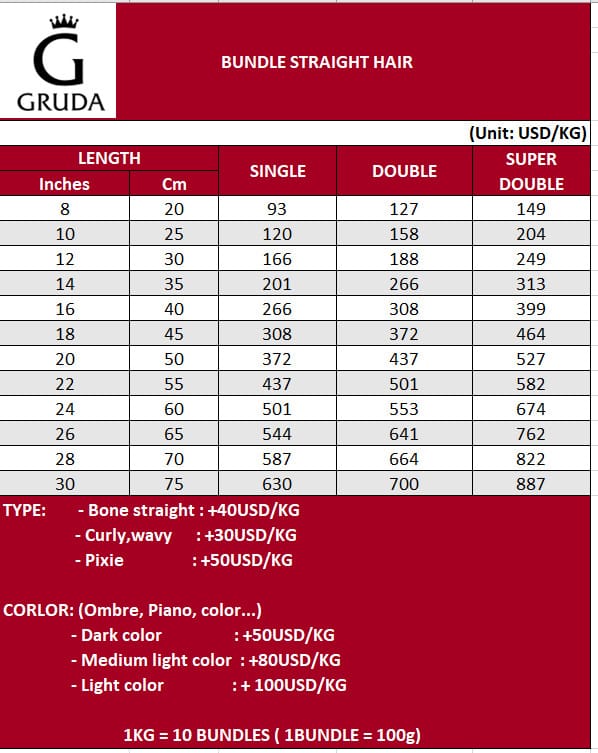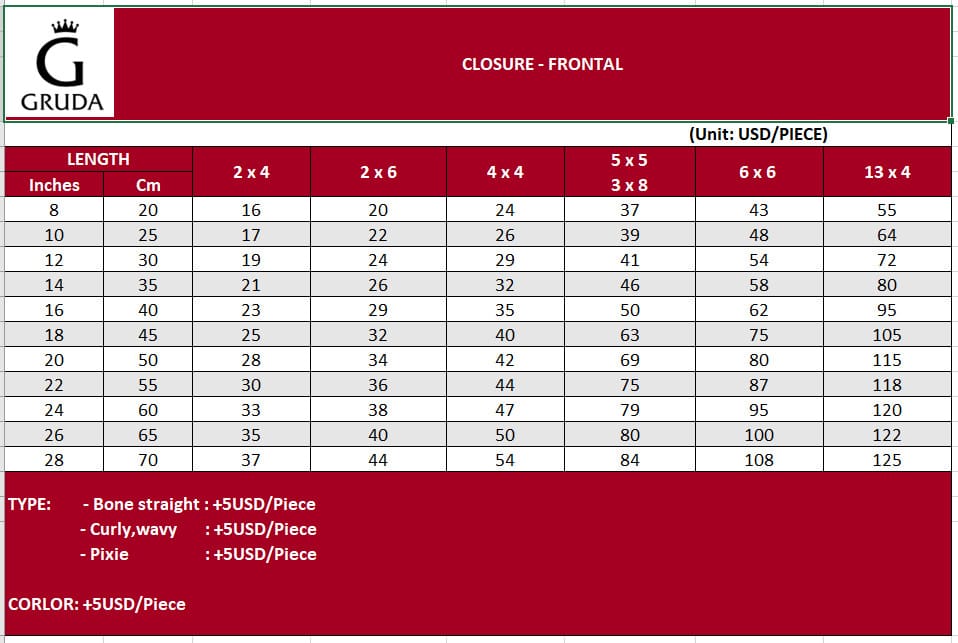 A closure is a hair piece attached to a cornrow base and secured around the perimeter in order to help protect your hair and improve its look.
A frontal refers to a hairpiece that has a strip of material which runs from ear to ear. It usually stretches 13 inches and goes about 5 inches back, making a half-wig of sorts. It's typically sewn onto bundles, but you can also use it to make a full wig.
Closure and Frontals are typically sold from 17$ per piece
Top hair manufacturers
Interested in trying out Vietnamese hair but don't know where to start? Don't worry, we'll guide you through every step. Just Click here.
As mentioned above, not all hair vendors are the transparent. Some might try to rip you off. Thus, we suggest you do your research about hair supplier carefullly before placing your first order.
To save you some time, here's a list of our trusted hair manufacturer from Vietnam. The common ground of these 2 are both of them have a good customer reviews record.
Gruda Hair
Click here to visit their website.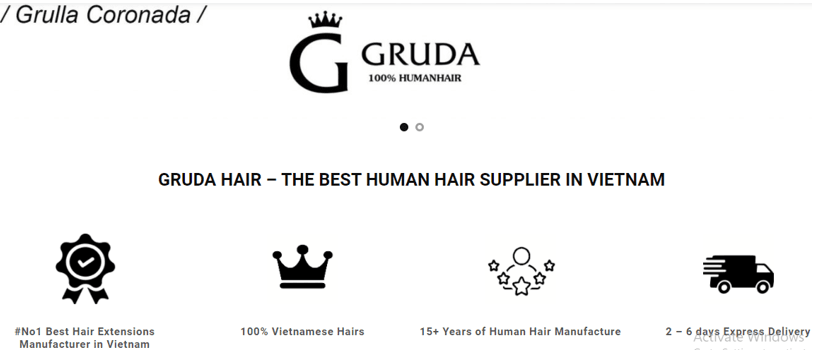 Gruda Hair, based in Hanoi, Vietnam specializes in hair products made of 100% human hair, including Hair Bulk, Machine Wefts, Ladies' Wigs, Lace Closure and other miscellaneous hairdressing products. With 10 years of experience in the hair market, they are well-versed in the various demands of clients in each country.
Their products are well-loved in the African countries, especially Nigeria, South Africa and Ghana, shown by a satisfaction score of 4.8/5 over the latest 500 reviews.
Main product: Hair Bulk, Machine Wefts, Ladies' Wigs, Lace Closure (Remy Hair)
UPS, FedEx, DHL or Intermediary agency
Visa, MasterCard, and American Express, Western Union, Money Gram, bank transfers or through local agents.
(+84) 902 106 091
grudahair@gmail.com
Hanossa Hair
Click here to visit the website.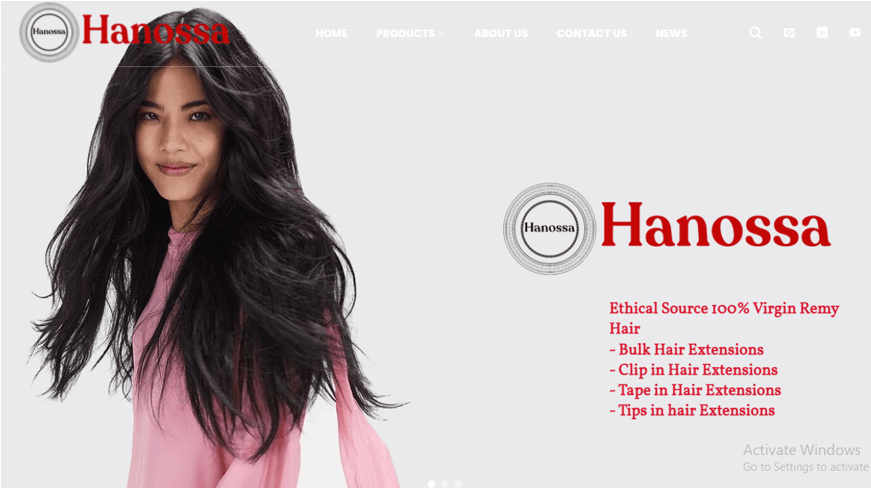 They are one of the fastest growing professional hair product producers and exporters from Vietnam. The facility, which covers almost 1,000 square meters, was only established in the year 2021. However, with a team of talented and experienced individuals, the brand managed to gain a revenue of more than 1,000,000 US$ in the year. Their items are of the highest quality, made entirely of human hair.
Main product: Hair Bulk, Machine Wefts, Ladies' Wigs, Lace Closure (Remy Hair)
UPS, FedEx, DHL or Intermediary agency
Visa, MasterCard, and American Express, Western Union, Money Gram, bank transfers or through local agents.
(+84) 379 418 619
hanossahair@gmail.com
Conclusion
Hair from different country has different attributes which make them great. Now your task is to find out which one is most suitable for your business. For example, if you like to make a quick buck while having a limited budget, go for Chinese hair vendors. In contrast, if money isn't of your concern and building a big, long-term brand is at the top of your mind, go for caucasian (european) hair as it has the best quality. And finally, if you want to build a sustainable, potentially big brand, giving benefits to not just you but all other people related, go for Vietnamese hair vendors as they are the most bang for your bucks, reasonable price for such upper quality.
We hope that this blog has been helpful in giving you information and insights about whether Vietnamese hair extensions are good or not.